Tahini
Nov 2, 2012 15:09:51 GMT -5
Post by TasunkaWitko on Nov 2, 2012 15:09:51 GMT -5
Tahini
Before this experience, I had never seen or tasted tahini, except in hummus, a well-known product that is made with it. Tahini is readily available in urban areas and online, but living in the middle of nowhere has taught me that often, if you want something that is hard for you to get, you need to make it yourself - so I did just that. It's not a difficult process, and gives a person something interesting to have on hand, ready to add an interesting element to many dishes.
Wikipedia gives a brief but thorough description of Tahini here, along with some history:
en.wikipedia.org/wiki/Tahini
Tahini (also tehina) (Arabic: ØÍíäåý), is a paste made from ground, hulled sesame seeds used in North African, Greek, Turkish and Middle Eastern cuisine. East Asian tahini is made of unhulled seeds. It is served as a dip on its own or as a major component of hummus, baba ghanoush, and halva. Tahini is used in Iran as Ardeh (Persian: ÇÑÏåý).

The oldest mention of sesame is in a cuneiform document written 4,000 years ago that describes the custom of serving the gods sesame wine. The historian Herodotus writes about the cultivation of sesame 3,500 years ago in the region of the Tigris and Euphrates rivers. It was mainly used as a source of oil.... Tahini is mentioned as an ingredient of hummus kasa, a recipe transcribed in an anonymous 13th century Arabic cookbook, Kitab Wasf al-Atima al-Mutada.
You only need two things to make Tahini, sesame seeds and olive oil: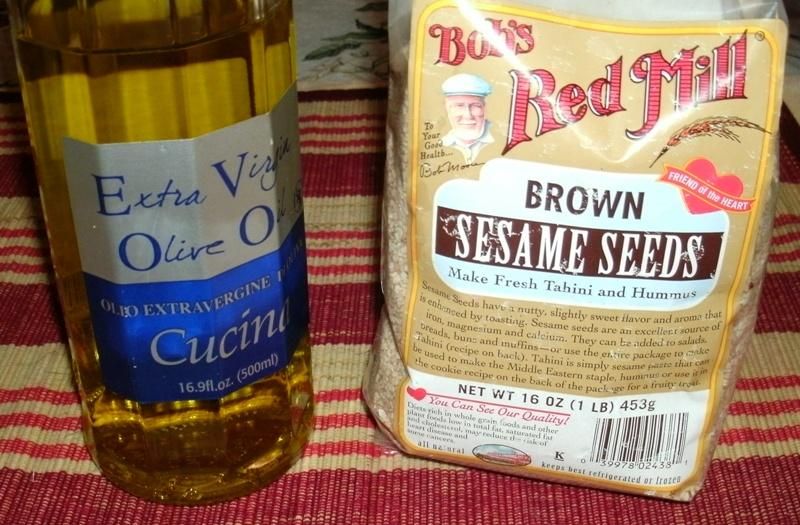 Toasting the seeds, while not absolutely necessary for making tahini, is one thing you can do in order to maximise the wholesome, nutty flavour of the final product. One way to achieve this is to spread them out in a single layer on a baking sheet and put them into the oven at 350 degrees, keeping a close eye on them and shaking or stirring them around now and then until they are toasty-brown and releasing their wonderful aroma. This works, but if you're not diligent, you might end up burning them. An alternate method, which I used, is described by Daikon:
The only thing tricky about making tahini paste is toasting the sesame seeds without burning them -- they can go from toasty to burnt very quickly. If you've got a strong wrist, you can toast them in a big, dry fry pan. By keeping them tossing in the pan, they're right in front of your face, so it is hard to burn them without noticing.
Armed with this knowledge, I toasted 2 cups of sesame seeds over medium-low heat in my cast iron skillet:
For this, I used my 10-inch skillet - I have a larger skillet, closer to 13 inches, and it might have been better to use that one in order to get more of a single layer, but this seemed to work. Stirring constantly to keep them in motion all the time, I worked the seeds over the heat until they released their warm, enticing aromas. After quite some time - maybe 20 or 30 minutes - they still hadn't quite taken on a colour that I would consider "toasted:"
However, I did not want to risk burning them, so I removed them from the heat and gave them an hour or so to cool down.
After this, I loaded them up in my food processor, added some olive oil and let 'er rip:
Regarding the amount of oil, I believe I started with about a quarter-cup, maybe a third; however, it soon became apparent that one is going to have to "eyeball it" in order to get the right consistency, so throughout the process, I continued adding olive oil, a little at a time, until it seemed right.
After a few minutes in the food processor, here's what I had: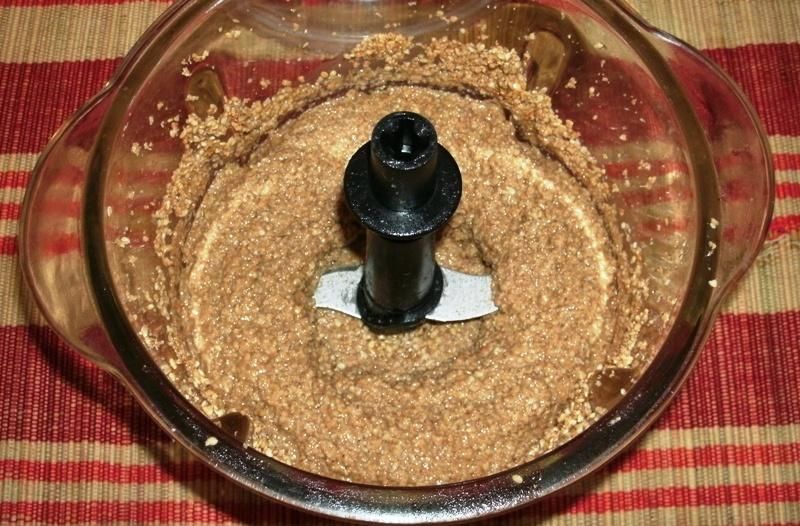 This didn't look much like the pictures I had seen of tahini, so I gave it another whirl. After probably 15 or 20 minutes total, this is what I had: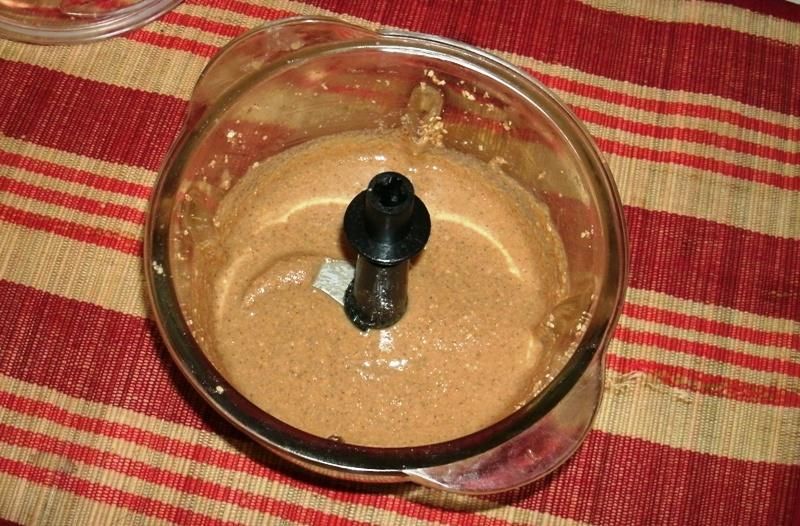 It looked to be about the consistency of a milkshake, smooth, thick and pourable all at the same time; I figured that was about what I was looking for, so I poured it into a mason jar:
The two cups of sesame seeds made just over a half-pint of tahini:
It seemed as if there might be just a tad too much olive oil, leaving a bit of a film on the top...but I'm guessing that's a pretty minor flaw, if any at all.
I then put the tahini in the refrigerator, where it will remain until I am able to use it to make taratoor, and - after that - hummus. If there is any left over, I might also attempt baba ghanoush or add it to other Middle-Eastern projects.
I also had some extra tahini that didn't fit in the jar, so with the quarter- or third-cup that was left, I added some crushed-and-minced garlic, salt, lemon juice, ginger, coriander and cumin, then mixed it all together, drizzling it with a little olive oil. The result was some sort of thick concoction that tasted really good when spread on sliced cherokee purple tomatoes: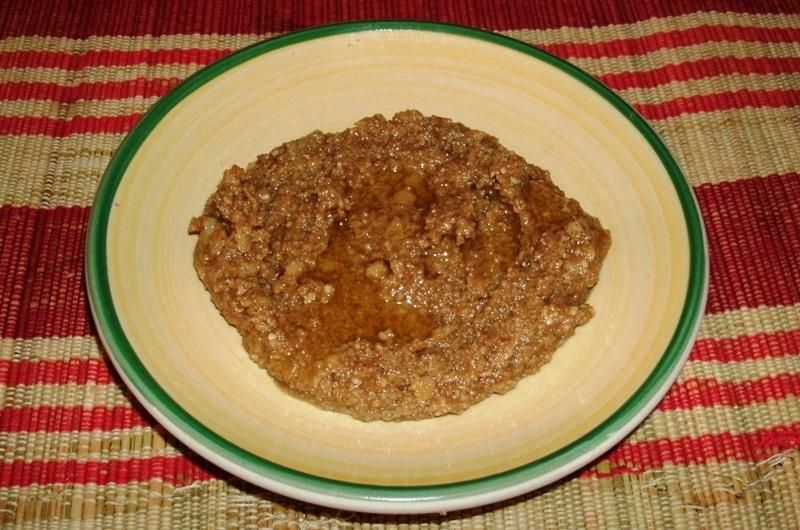 So went my first attempt at tahini, and I think it went pretty well. I'm looking forward to trying it with various projects and seeing how versatile it is.