Post by TasunkaWitko on Sept 17, 2012 16:22:58 GMT -5
Al Farawlah al tazjah ma'a al labn
Fresh Strawberries with Yogurt
I found this easy, refreshing recipe, along with these comments, at about.com:
moroccanfood.about.com/od/dessertsandcookies/r/strawberries_yogurt_dessert.htm
When strawberries are in season in Morocco, they might be sliced, mixed with yogurt and sugar, and left to macerate a bit until a creamy, juicy sauce forms. Serve as a light dessert or healthy snack.
It's about as simple as can be, and is surely versatile enough; here's the recipe:
Ingredients:

◦ 1 lb. (about 500 g) fresh strawberries
◦ 1/2 cup (about 120 g) vanilla yogurt
◦ 3 tablespoons sugar, or to taste
◦ Dash of vanilla extract or flavoring (optional)

Preparation:

Wash and slice the strawberries. Gently mix the sliced strawberries with the yogurt, sugar and vanilla. Cover, and leave in the fridge for an hour or longer.

If desired, bring back to room temperature before serving.

Yield: 3 to 4 servings
This one is so easy, it hardy needs photographs; however, since I was making it along with various other Mediterranean foods one day, I snapped a few shots.
Here are the goods:
Due to a miscommunication, only one pound of strawberries was brought up from the freezer, but no worries, you get the idea. For yogurt, I went with what we had available. Full-fat plain or Greek yogurt would probably be preferable, but this worked without any real problems. Since it was vanilla yogurt, the addition of Vanilla extract was probably not necessary, but since I love vanilla, I added it.
As I said, this is pretty easy to do; first, I drained the liquid from the strawberries:
In a good kitchen, nothing (or, at least, very, very little) goes to waste; in this case, I reserved the juice and added it to some lemonade that I made.
Next, I cut the strawberries into chunks:
Due to the fact that they were frozen and then thawed, there was still quite a bit of juice, but no worries.
I then added the yogurt to the strawberries: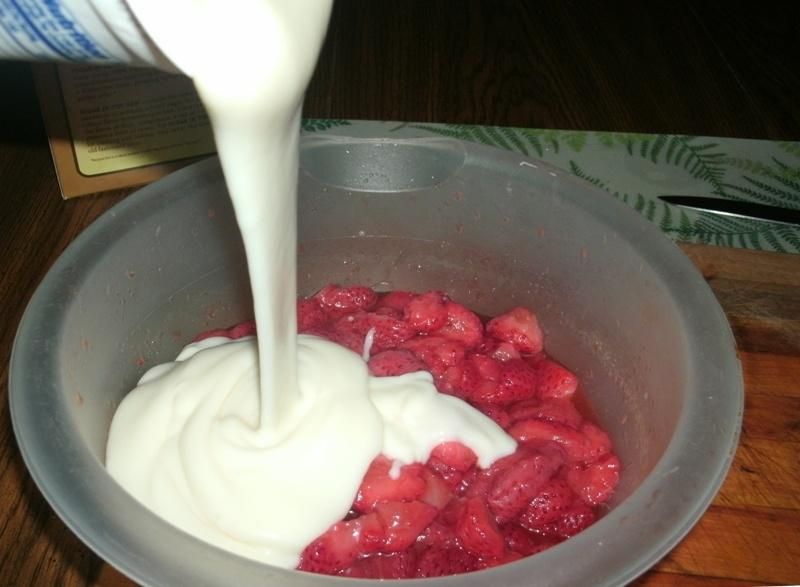 Since I was preparing this dessert for 6 people, I added the entire carton; this is considerably more than the ratios called for in the recipe, but once again - no worries.
Next came a very generous splash of vanilla: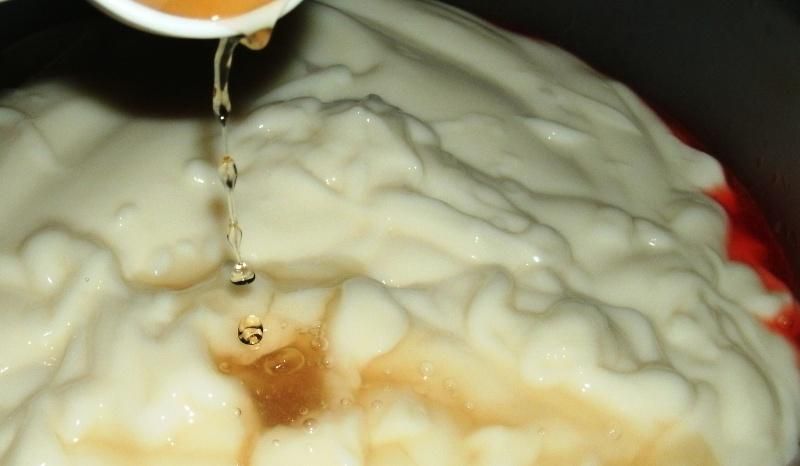 I elected not to add any additional sugar, due to the fact that the yogurt and strawberries together seemed sweet enough. One could, of course, add sugar if desired.
That's pretty much it - see, I told you it was easy! After stirring the ingredients together:
I covered the dessert and put it into the refrigerator for a couple of hours in order to allow everything to mingle. The next time I saw this wonderful concoction, I was serving it up as part of a wonderful Mediterranean-style supper: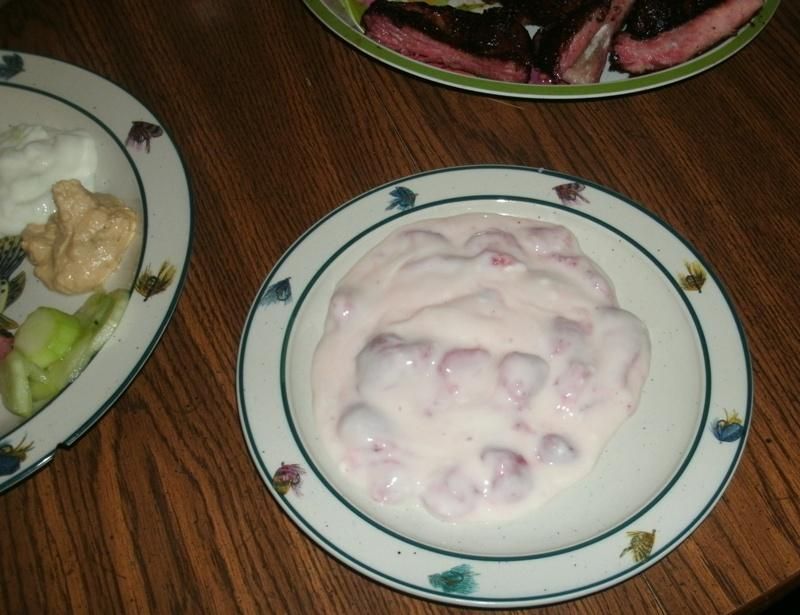 Other notable dishes served were barbecued ribs with a Greek-inspired rub, vinegar-soaked cucumber slices and sliced pita bread, with hummus and home-made tzatziki for dipping.
Unique, easy and delicious - this wonderful dessert from the Maghreb was a terrific end to a very enjoyable dining experience that was enjoyed be everyone. It's certainly worth a try, if you're looking for a refreshing compliment to a North African or Mediterranean meal.