Post by TasunkaWitko on Sept 13, 2012 13:40:12 GMT -5
Easy as pie - no, really!
Not long ago, a friend in the Pacific Northwest shared his method for making fresh blueberry pie. Until I actually SAW it, I never realized just how easy it is; for some reason, I guess I was always under the impression that it was some sort of alchemy known only to grandmothers and possibily old, reclusive sourdoughs that live in cabins in the remote regions of the wilderness - but the fact is that it's so simple, even I could do it!
So I did.
Note: This is a quick-and-dirty method using pre-made pie crusts; a notion that goes against my usual "build-it-from-scratch" mantra, but definitely with really good results; having said that, if you have the skills to make your own pie crust, I salute you and encourage you to go ahead and make a fully-home-made pie!

Basically, this is how easy it is:
Start with 6 cups - more or less - of fresh blueberries, washed and cleaned of leaves, stems, etc. Mix the blueberries together with:

3/4 cup sugar
1/2 cup flour
1/4 teaspoon cinnamon

Be sure to mix these ingredients as thoroughly as possible for even distribution.

Pour into the pie shell. Foil the edges of the pie crust to keep it from burning while baking.

Bake in a pre-heated oven at 425 for 35-45 minutes, removing the foil from the outer edge for the last 15 minutes. Let cool for 2 hours minimum before eating.
Mike had fresh-picked blueberries from his back yard, which makes him a lucky man. I had "fresh-picked" blueberries from a plastic carton at the store, and because there weren't quite enough of them for a full pie, I also added some frozen raspberries that I had thawed and drained.
The top crust was a challenge - I should have taken it out of the foil pan before it thawed. It went into the oven looking completey shredded, by the time it came out it didn't look bad at all:
Hard to believe, but, but that top crust is actually very pieced-together, due to the troubles mentioned above:
It looked like a mess going in but, in my opinion, the final result looks kind of nice.
After cooling for exactly two hours (everyone was counting down the last minute or 5), we served the pie up simply with some whipped topping: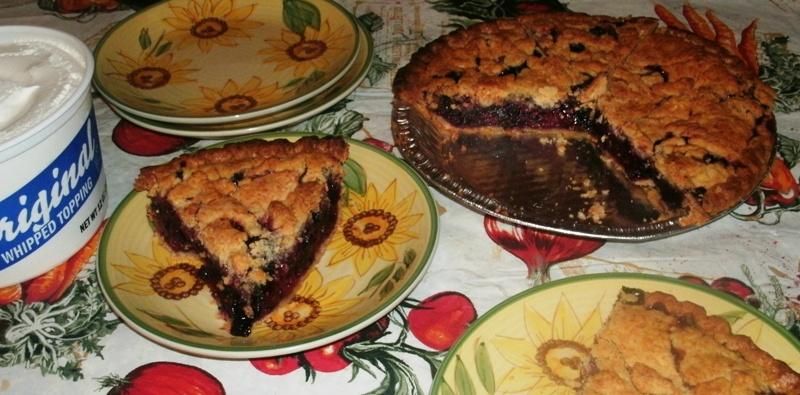 The taste was really good! The blueberries and raspberries were a great match (how could they be anything but?) and the crust, which wasn't soggy or limp, had a good flavour to it.
Taking Mike's advice into consideration, I made sure that the filling ingredients were well-mixed. I used raw (turbinado) sugar, and probably added just a little too much sugar or (more likely) flour to the mix; the filling was quite firm, but not in a bad way. Since I enjoy the effect that cinnamon has on things like this, I used probably twice what his method called for, and enjoyed the extra zing provided.
All-in all: success, I think - especially for a first attempt! The only thing I would do differently is perhaps cut the sugar and the flour by just a little bit, but not much, and see what the result is like.
Thanks to Mike for showing me just how easy something like this can be, and how good the results are. I honestly would never have believed it without seeing it.