Post by TasunkaWitko on Aug 31, 2012 14:53:40 GMT -5
Glace de Viande - Your Secret Weapon for Flavour
If you're looking for ways to boost the flavour and depth in anything you cook, I can absolutely guarantee results with
glace de viande
. For the cost of just a few, simple, basic ingredients, and some time invested, you can build yourself a stockpile of rich, meaty goodness that will transform any ordinary dish into something that is so much more, giving your dinner guests something to rave about and making you a hero in the kitchen.
The definition given in Dave's post on
glace de viande
:
foodsoftheworld.activeboards.net/glace-de-viande_topic1100.html
Sums it up the situation pretty well:
Glace de viande is a flavor-packed super-reduction of aromatics, rendered meat drippings and melted connective tissues (collagen) - the perfect embodiment of rich, caramelized roasted-meaty goodness. To visualize the concept, imagine meat stock reduced to a point where all the moisture is gone, leaving a gelatinous, richly-browned glob of savoriness that can be preserved and added to any dish as a flavor enhancer. Championed by Escoffier, Child and Pepin, glace de viande is most commonly associated with beef, but can be made from any meat - pork, veal, venison; even poultry or fish, if desired.
But reading about this wonderful elixir is simply not enough - it must be experienced! It hardly costs anything, just some meaty bones - available for little or nothing - and a few wonderful, aromatic vegetables. And some time - the mother of all good things - to do it well and right. To make a wonderful basic
glace de viande
with all of the fundamental, beefy goodness that you will ever want or need, all that is required is this:
5 to 6 pounds of meaty beef bones
1 to 2 onions (depending on the amount of bones)
2 to 3 carrots (depending on the amount of bones)
2 to 3 stalks of celery, with leaves (depending on the amount of bones)
Olive oil, for brushing
There are probably dozens of "optional" ingredients: a pinch or two of salt and a few peppercorns (not too much - keep in mind this is a very heavily-concentrated reduction) - also thyme or parsley; a few garlic cloves, perhaps a bay leaf or two, or some tomato paste, - or better yet, a couple of tomatoes, roasted or not. Perhaps a little wine with the reducing, red or white. Lots of possibilities that I probably haven't even thought of, but I wanted to keep it fundamental; other than the primary ingredients above, the only thing I added was a few garlic cloves, which I roasted along with the vegetables and bones.
I had made improvised versions of this before, but due to time or ingredient restraints, I would take shortcuts rather than prepare it the way it should be done; results were good, but not nearly as rich and full as they could be. Recently, I decided to finally stop everything and follow this through, from beginning to end. Let's take a look.
I thought I had it all figured out, and was ready to begin - I really did! I stopped by a local grocery after work one day, and bought 2 yellow onions as well as some whole carrots and celery. I got the idea in my head to chop up the celery leaves to simmer with the bones and stock after roasting - more on that later.
Speaking of the bones, I went to the meat department and saw that the butcher had, just moments before, finished trimming several nice meaty-and-marrowy leg bones of some kind - in fact, the bones were just coming off the saw and about to be packaged as "pet food," at about half the price compared to the identical "soup bones" that were in the freezer section (and had probably been sitting there for quite a while, since most people just buy cans or cubes of broth these days). Before the butcher could even finish packaging them, I asked for about 5.5 pounds of them, and then proceeded to the check-out line with my fortuitous treasure.
Unfortunately, I had to put my plan on hold for a few days. Evidently, while I was at work the next day, my youngest son thought the bones were for the dog, and gave all the bones to her. When asked about it, his answer was, "But the label said, '
Pet Food!
'"
Well, it was pretty hard to argue with that, so I chalked it up as a situation that turned out good for the dog, but bad for me.
So ended my first attempt at "doing it right."
Sometime later, I found myself in the same grocery again, after work again, on a Friday, with money in my pocket. So I picked up a new supply of wonderful, meaty bones - frozen, but only since that morning. Looking at them, I saw that they were actually nicer than the ones I had before, with even more meat for richness and flavour. I decided on the spot to begin my
glace
project that evening, giving me the weekend for the simmering and reducing that is required.
Here are the goods used:
I started with just over 6.5 pounds of meaty bones, plus a strip of sirloin that I found in the refrigerator - it was maybe a third of a pound - cut into cubes.
I pre-heated the oven to 375 and brushed the meat and bones with olive oil. I thought I would be clever and do everything in my large, 13-inch cast-iron pan, but when I got the bones and meat in it: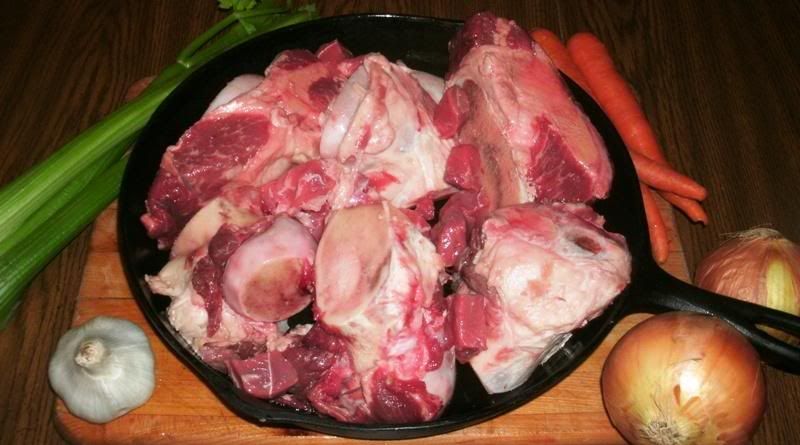 I quickly saw that the veggies wouldn't fit when the time came to put them in. no worries, I would cross that bridge when I reached it.
I put the pan into the oven for an hour; during this time, the house took on an incredible, beefy aroma, and I figured out a solution to my dilemma about lack of space in the cast-iron pan. When the hour was up, I transferred the meaty bones to my other large (12-inch) cast-iron pan: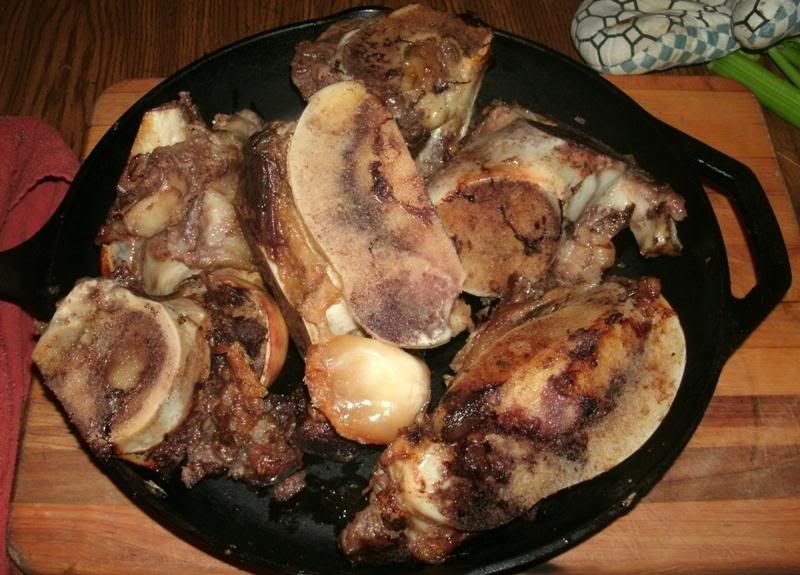 This pan was returned to the oven, reducing the temperature down to 350 degrees, leaving the fat (that had rendered so far), steak pieces and brown bits in the original pan. I then quartered two onions and cut three carrots and three stalks of celery into chunks, reserving the celery leaves for the boiling. I also ripped half a dozen cloves of garlic off a bulb, leaving them un-peeled. I added the carrots, onions, celery and garlic to the original pan, tossing them in the oil and brown bits and mingling them with the steak pieces:
I then placed this pan in the oven alongside the meaty bones.
To sum it up, I had one pan of half-roasted meaty bones and another full of aromatics, half-roasted steak pieces and brown bits (fond) in the oven at 350 degrees. Looking back, I probably could have just used a single roasting pan for the whole thing, but I figured that the properties of the cast iron would work well for this project; in the end, I do believe that this was a good decision.
I roasted everything for an hour (this makes 2 hours for the bones), and then took a look:
There are a lot of adjectives to describe that scene, and all of them are synonyms of the word "wonderful," especially considering the aroma that was filling the entire house.
I roasted the vegetables and bones for a good while longer, right around another hour; this makes about two hours total for the veggies, three for the bones. Keep in mind I reduced the temperature after the bones had roasted for an hour, so your time may vary; What you're looking for is some good, deep browing of the ingredients. At the times and temperatures I used, the bones: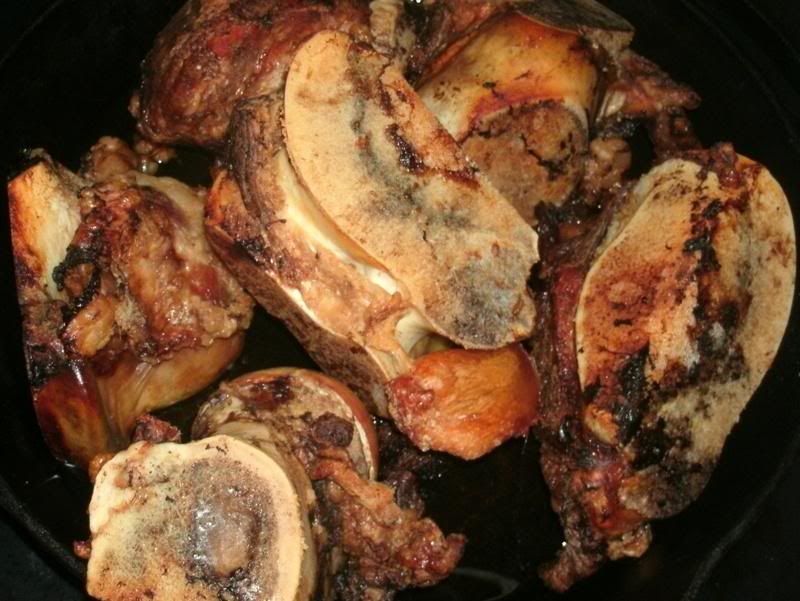 As well as the beef scraps and veggies: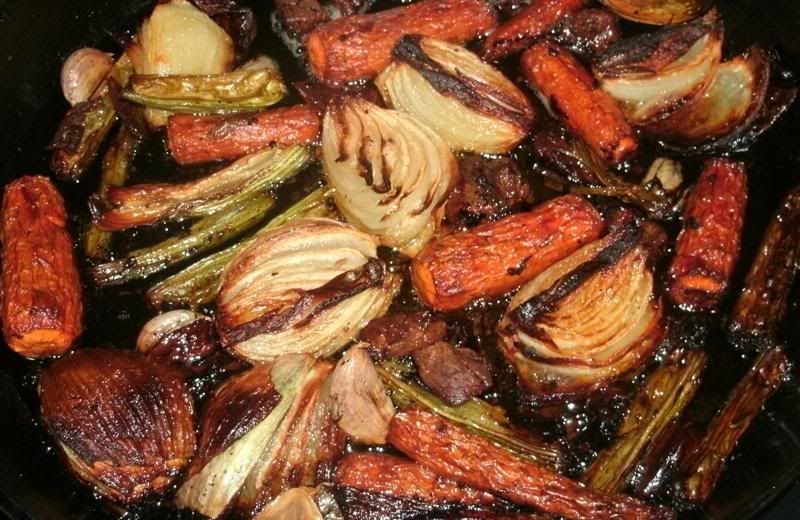 Had all taken on a wonderful, rich browned colour; I believe this is a textbook example of the Maillard reaction, which is evidently the heart of the concept behind this "meat glaze."
I removed the bones, meat, vegetables and scrapings to a large bowl:
And then poured the juices and fats from both pans into another, smaller bowl:
I then de-glazed both of the oven-hot pans with a little water (deciding not to use any wine) and added the resulting liquids to the bowl with the juices and fats. As advertised by Dave in his post, the liquids were a beautiful, hearty espresso-brown.
A lot of rendered fat from the bones rose to the top:
But no worries – time and a little magic would take care of that!
I left both bowls out so the meat, bones and vegetables could cool down naturally for about an hour; then, since the hour was quite late, I covered both bowls, placed them in the refrigerator and then turned in for the evening.
The next morning, I got off to a slightly-late start, about 9:00 AM, but no worries. First, I brought out the large stock pot and put all the solids in it. I then took a look at the "liquids" bowl:
The fat had all risen to the surface and solidified in the refrigerator, creating a pretty thick cap over the liquids:
However, being solidified, it was an easy matter to run a knife around it and lift it off with a fork:
I then poured the liquids onto the meat, vegetables and bones in the stock pot: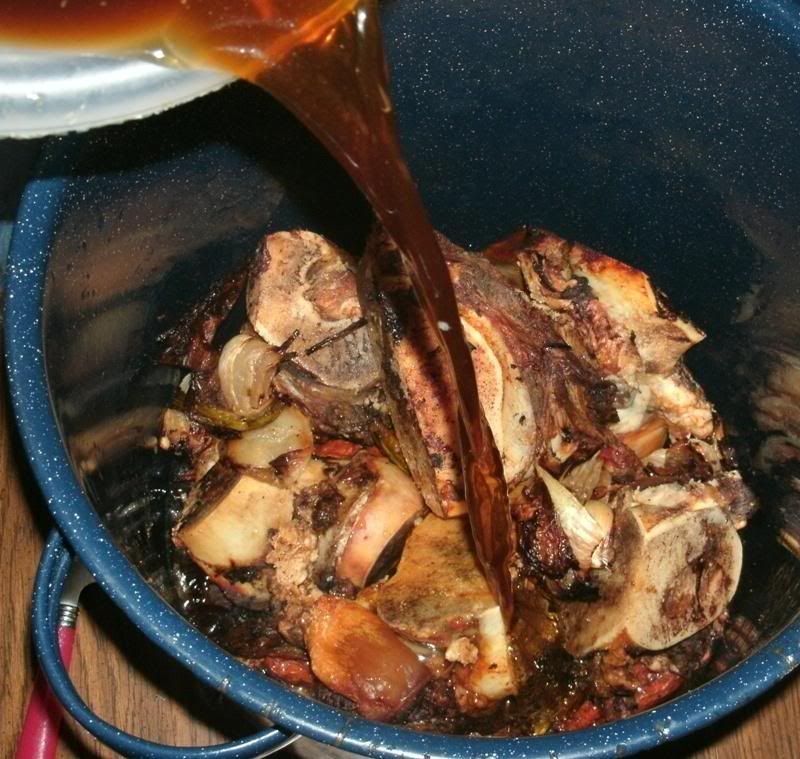 And then covered everything with a little over 6 quarts of cold water so that the entire project could heat in a uniform matter.
For this preparation, I ultimately chose to add no additional ingredients, except the garlic cloves mentioned before. I had been considering halved, roasted tomatoes, but the ones I was going to use ended up in our supper the night before, so that idea was out. I suppose I could have thrown in a small amount of tomato paste, but decided against it. I also considered adding a teaspoon or two of salt and a few peppercorns, but then took the final reduction into account and decided against that, as well. As Dave said, the beef and veggies will provide the only real seasoning that this wonderful stuff needs on a fundamental level; the rest is just embellishment. I did ultimately decide to chop up the celery leaves: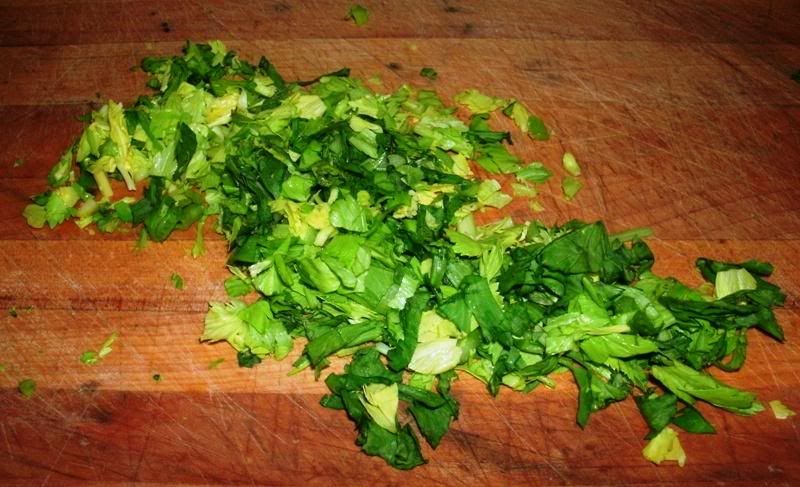 And add them to the stock pot simmering for flavour, but that might have been a questionable decision; I'll show you the results and you can decide.
With that, I began a very long, slow, just-barely-bubbling simmer - uncovered - which was slated to last at least 12 hours. During this time, you want to be skimming the liquid as often as possible with a slotted spoon; it's important to get all foam, scum and other detritus out of the stock pot, so that you are left with a wonderful, pure stock. You want to also keep the liquid level above the bones, adding some hot or boiling water as-needed. It wasn't long before I started to question my decision regarding the celery leaves:
Since they commenced to float around the top of the stock pot, running the risk of getting skimmed out; nevertheless, they did impart some wonderful, savory flavour into the final product, and I would definitely do it again.
From here, this process should have been pretty straightforward: simmer, skim, strain and reduce. While I was simmering the stock, I skimmed any fat, scum or foam that rose to the surface, but there wasn't very much at all, and the stock remained very clear, just like good, rich, dark coffee. Every now and then, I added a pint or so of boiling water, to keep the level well above the soup bones, and things were bubbling along quite merrily. As I said, my intention was to simmer, uncovered, for at least 12 hours; however, we did have a slight change in said plan.
About halfway through the simmer, the beautiful Mrs. Tas came home from work and announced that we needed to "go to town" for some grocery shopping. Where we live, the phrase, "go to town" actually means going to the town of Havre (pronounced to rhyme with "have her"), 20 miles away, so I added a little more water than usual to the pot and covered it halfway so that the simmer could continue in our absence without going below the level of the solids. This may have been a slight mistake, as we shall see - then again, maybe not; I don't have enough experience with this to know.
We were gone three hours, maybe close to four; during this time, a very fierce windstorm came up, with (obviously) heavy winds, thunder, lightning and a little rain, as well. It started just as our shopping was finished, and we ended up driving home through it. No big deal, it is normal in this part of Montana a couple of times of year - however, these storms are simply incredible, especially the way you can watch them come over the course of 60 miles or so, with a wall of clouds and prairie dust miles high. Back during the 1930s and the Great Depression, these natural windstorms (without the rain), combined with oppressive drought and very poor soil conservation practices in agriculture, leading to the apocalyptic "dust bowl" events - also called "black blizzards" - that engulfed the prairies of the American West and buried dreams along with farms in an ocean of dust. It is truly a unique phenomenon and was the source of much despair back then. Luckily, we have since learned much about soil conservation and have altered practices in order to mitigate the effects. The windstorms still occur, but the damage they cause is not nearly as bad.
Anyway, when we got home, I discovered two things. The first is that the windstorm had knocked out the power only a few minutes before we arrived, putting my simmering on hold until the power came back on (about two hours); the second thing I saw, when I checked the project, was that in my absence, the simmering liquid had taken on a bit of a cloudy, opaque look to it. I am guessing that either some stuff rose up that didn't get skimmed, and worked its way back into the stock; or perhaps there was some unintended consequence that resulted from half-covering the pot - maybe the simmer turned into a boil - I'm not sure, since the power was out and there was no way to see it in action. Anyway, this really wasn't too big of a deal, but it was a bit of a mystery.
Once the power came back on, I resumed the simmering, adding about three extra hours on to the total simmering time in order to make up for the power outage. As a result, Saturday evening was a long one while the pot simmered, and I passed the time watching episodes of Battlestar Galactica on Netflix while everyone slept. I enjoyed the "old" version of the show when I was a kid in the late 1970s, and the new, "re-imagined" series is nothing short of amazing. I'd really recommend it as a "must-see," even for those to who do not normally enjoy science fiction. It's not my intention to get into a summary of the whole series, but the premise of the show involves an earth-like civilization destroyed by attack from outer space - billions of people reduced down to about 50,000 - and the journey of the survivors as they travel the galaxy in search of a new home under the relentless pursuit of their attackers. There's no "techno-babble" here, just a lot of good, hard-hitting drama and story-lines as the characters tackle some unique and relevant issues relating to survival, humanity, science, religion, politics, morals and society - the special effects and soundtrack are pretty good, too - here's a sample ~
[TUBE]Y-wC1xZTpc8[/TUBE]
I hate to sound like a broken record, but the entire evening, and even into the next day, the house smelled absolutely amazing. The ingredients here are a perfect combination for a truly cozy atmosphere, and I'm wondering if it can be bottled and sold as a potpourri or something along those lines!
When the simmering time was done, I used tongs to remove the now-bare bones and placed them aside to cool, anticipating the grin on the dog's face when she got these precious treats. I then strained the vegetables and little bits of meat out, adding them to the bones for the dog. I left the large bowl of strained liquids out to sit for an hour or so in order to cool down naturally, then covered the bowl, put it in the refrigerator and finally turned in for the night.
The next morning, following Dave's procedure, I drew off the last of the congealed fat and set the stock to reduce over high heat in a smaller pot so that it could reduce down into
glace de viande
. As the stock reduced, I continued to skim the very small amount of "stuff" that rose to the surface. When the stock had simmered down to a level that would accommodate my smaller stainless-steel pot:
I ran it through my wire-mesh sieve and then transferred it so that it could further reduce: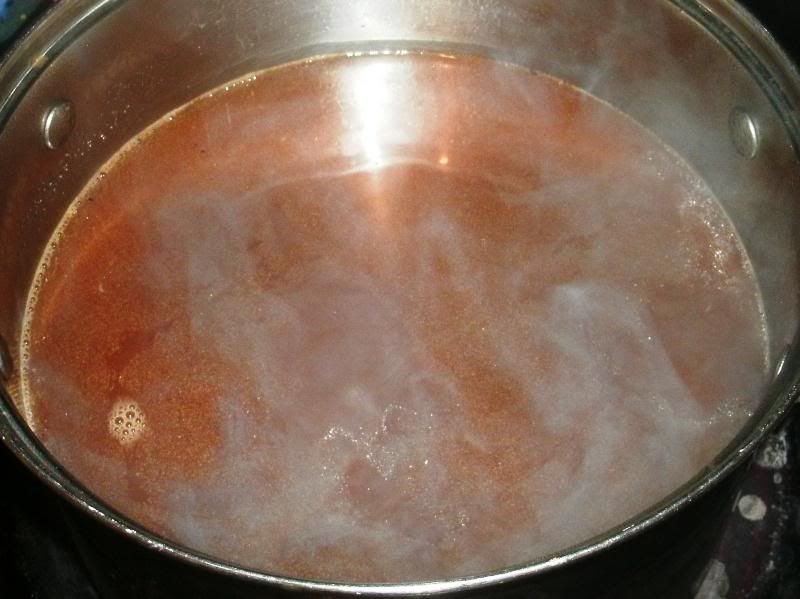 I considered using cheesecloth for the straining, but didn't have any on hand; things seemed to turn out well in the end, nonetheless.
After some more reduction time, the bulk of the water evaporated away, leaving a richer, more viscous
demi-glace
, and things started to happen at a faster pace; I found myself reducing the heat from high down to medium, so as not to burn anything. When the reduced stock began looking like this:
I transferred it to a small saucepan that we normally use for gravy and to melt butter for popcorn:
I continued to reduce, over medium-low heat, until nearly all of the moisture was gone, the
glace
was a very deep, dark chocolate brown and had taken on a high viscosity, clinging decadently to the back of a spoon. It had a truly rich, wonderful aroma to it and the savory taste was three steps shy of heaven, with a glossy, rich mouth-feel. When it was finally reduced as far as i deemed possible, without burning, I poured the
glace
into a square dish that we have:
I let it cool for a while on its own, then covered it and set it in the refrigerator to set up. Before long, it had taken on the firm, Jell-O-like properties that are expected from this product.
The next night, I took a look the gelled
glace
, imagining the rich, savory, beefy goodness that it was going to add to so many projects:
I then ran my knife along the outer edge of the
glace
, dipped the dish into some hot water for maybe half a minute, and turned this wonderful block of flavour out onto my cutting board. I immediately set it in the refrigerator for about half an hour, so that the surface could gel up again:
Believe it or not, that "running Jell-O" look that it has to it is actually solid - well, solid as Jell-O is, at least.
From here, it was a relatively simple matter to cut the
glace
into cubes approximating a tablespoon-and-a-half or two:
They look just like brownies, don't they?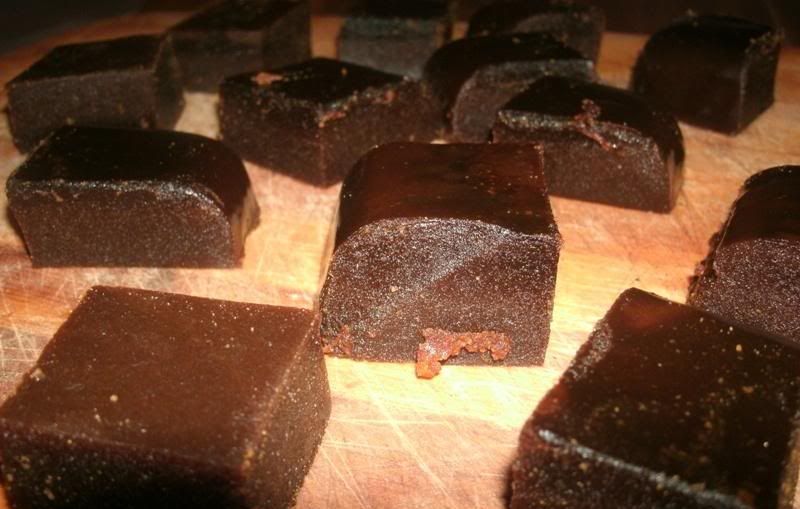 Especially when stacked on a plate: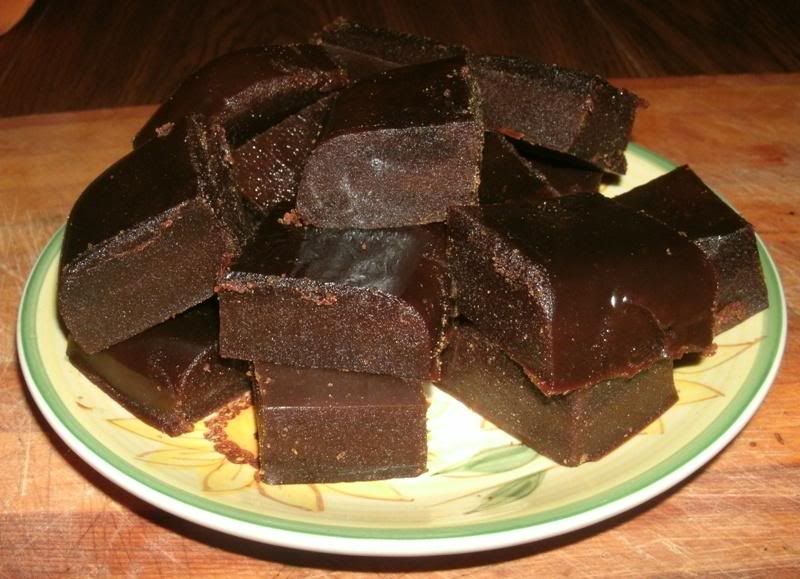 But rather than being full of chocolate, each cube is a veritable explosion of rich, wonderful beef - one of the best flavours you can find.
Turning the corner to the home stretch, I packaged the cubes in a zip-lock freezer bag, gently squeezed out all the air and sealed it, and then put the bag the freezer so that the cubes
glace
would be ready to use any time I might want to add its richness and depth to various beef-based projects.
Full success all-around, I'd say! So far, I've used this in a couple of gravies and as part of our
au jus
when making our semi-famous home-made French-dip sandwiches (a pictorial on that will be posted, one of these days); I'd also like to try adding some to some meatloaf, and will definitely incorporate it into my next French onion soup. I cannot tell you just how much depth these little cubes of heaven will add - you simply have to see for yourself!
My heart-felt thanks to Dave for his detailed, easy-to follow directions - starting me out on my journey to flavour. To my FOTW friends (or anyone else reading this), I can't stress enough how good this is, and hope that this pictorial will inspire someone to try it. It's a fine project any time of year, but it seems particularly suited for winter, when it seems to warm the house and wrap it in all sorts of savory good things. Given the materials used, it's also a downright CHEAP project - some bones, carrots, onions and celery are really all you need, although you can, if you choose get a little more elaborate - and time. Best of all, the benefits that it adds to your recipes can't be over-stated. This easy, wonderful stuff will truly add so much to your cooking experience, not only in terms of flavour and depth, but also in the "love factor" that is so necessary when preparing treasured recipes for memorable meals. Why not give it a try?