Post by TasunkaWitko on Jul 18, 2012 16:13:42 GMT -5
Holiday Stuffing or Dressing
For the holidays (usually Thanksgiving and Christmas, sometimes also New Year's and Easter), we roast a turkey with all the trimmings; one of those trimmings, of course, is stuffing/dressing.
In our house, dressing and stuffing are essentially the same thing - the only real difference is where it is cooked: it's called
stuffing
when it is cooked in the bird; it's called
dressing
when it's cooked in a casserole. Stuffing, like mashed potatoes, is one of those things where it never seems that enough has been made. My advice to anyone is to always make at least half again as much as you think you will need; twice as much is better. If nothing else, it makes fine leftovers, right?
There are scores of ways to make sutffing - here's the basic, base-line way that we do it. It's very open to variation, and we often add herbs, spices or other minor ingredients depending on the mood at the time.
As always, I'll start with a shot of the goods:
Here we have two boxes of bread crumbs, which come with seasoning packets that are totally inadequate, in my opinion. The rest of the ingredients are pretty self-explanatory: onions, garlic, celery, chicken broth and butter. Along with salt and pepper, this is all you really need, but we also like to add some poultry-friendly herbs, as well.
Stuffing isn't very complicated to make - simply chop your aromatics:
Celery is a rather recent addition to our stuffing. Neither the beautiful Mrs. Tas nor I are very fond of celery when it is raw, or in large chunks in food; however, I really love the aroma and depth of flavour that cooked celery provides to a dish when it is very finely-chopped and hence not texturally present in a dish. When it comes to the onions, on the other hand, we generally dice them on the large side, at least when they are to be cooked. Your preferences may vary.
When it comes to holiday cooking, Mrs. Tas is an absolute butter fiend, and that is no joke. It's heavily dotted all over the turkey, it's in big chunks in the sweet potatoes/yams - and I won't even mention the mashed poatoes. Also, of course, it's in the stuffing. In this case, she melted two sticks of butter in the saute pan and started cooking the aromatics:
Personally, I think it's about twice as much as is actually needed, if not more - but over the years I've learned not to interfere. Then again, there are definitely a lot of bread crumbs to absorb the butter, and the food always comes out tasting great, so who am I to complain?
Anyway, when the aromatics have cooked down: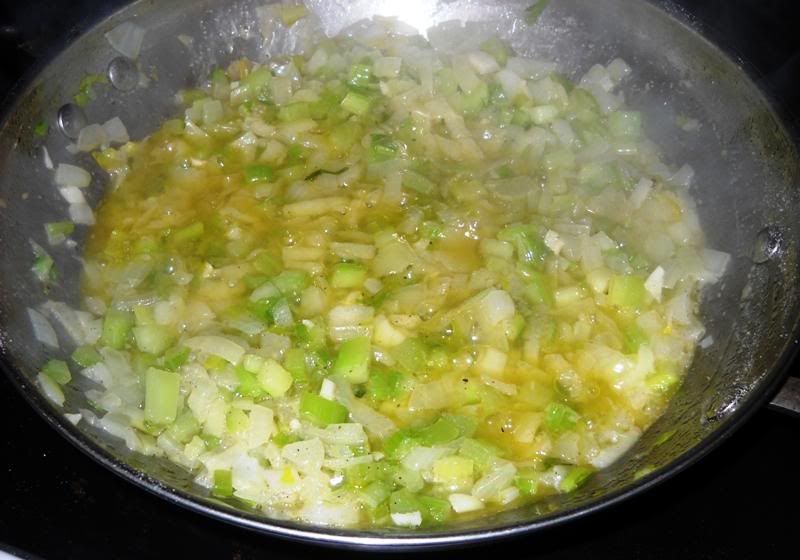 They are added to the bread crumbs:
And the chicken broth (or stock, of course) is introduced to the party: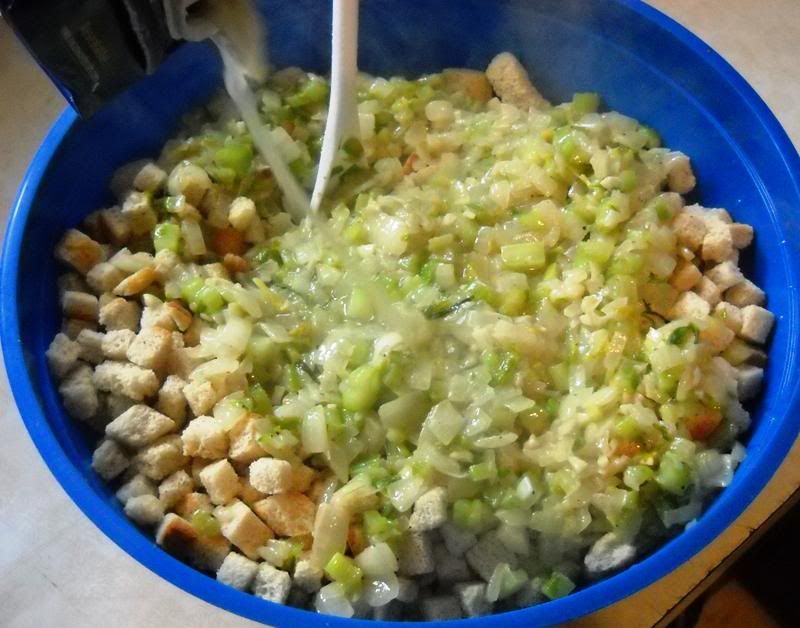 Stir everything around to mix the ingredients and the flavours, and the bread crumbs are good and moist:
When it comes to the chicken broth, Mrs. Tas usually adds quite a bit, to be absorbed by the bread crumbs. At first, it always seems like it's going to be too moist, but usually, it comes out fine after it's in the oven. It certainly helps keep the turkey moist, so once again, I do not interfere. Your mileage here may vary, and you can add as much as you prefer. The main thing is to moisten the bread crumbs:
I prefer my stuffing a little drier, but that preference is not so deeply-felt that I'm willing to spend a holiday alone, so I adhere to my non-interference policy.
It is at this point that we taste it and adjust for seasoning - adding herbs or spices as necessary - then it's into the bird and into the oven. It's good advice to pack it in the cavity loosely and not completely full, because the stuffing expands while cooking, as you can see here:
Even when it blows out of the bird, who cares? It looks and tastes great, as far as I am concerned, and is usually my favourite part of the stuffing,, taking on a nice, savory flavour from the exposure to the roasting in the oven.
As I said above, you should always make a lot more than you think you will need. It won't all fit into the turkey, of course, but that's no big deal - simply bake it in a casserole: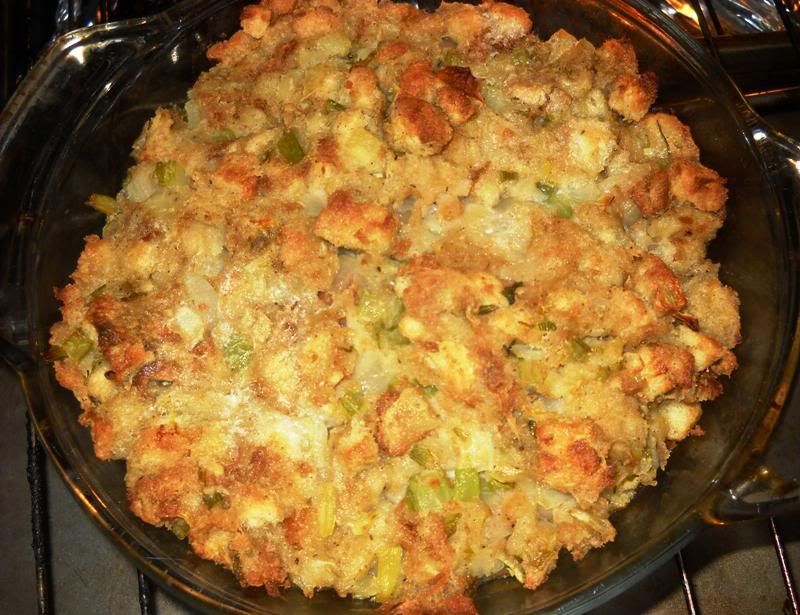 Anyway, that's how we do it. We've tried different recipes, some more elaborate than others, but this seems to work best for us.