Post by Deleted on Aug 31, 2010 22:37:49 GMT -5
Thought I would post this with directions and pictures for those who were curious. Use your own recipe, or mine from the scented soapers thread, I make my batches 48-50 oz for the size of my pot.
I make smallish (crock pot sized) batches in my crock pot.
PLEASE PLEASE google it a bit before following my clumsy directions here.
Start out with your run of the mill recipie, sized to your crock pot, and calculated again, for corect lye. I would suggest a basic recipie for the first try, my fave has lard, Crisco, and coconut oil as the main ingredients.
Melt all oils in a container, mix lye and liquid in a seperate container (I use frozen milk, and use a bit more than the recipie calls for). MAKE SURE they are about the same temp, I like mine like hot bath water. If they are not the sameish temp, things go WRONG!
put oil in crock pot (cp) on the lowest setting, add lye liquid, and stir untill you get a light trace. I use a stick blender, and pulse every few minuets, but be sure not to whip it into false trace, not only can you get funky soap this way, it increases the risk of boil over. Also, make sure not to touch the bottom of the now heating cp too much with the blender (yes, experience speaks ) should look something like this (this is actualy a bit on the thick side, it was too cold):
At light trace, put the lid on (I turn the pot up to high too, but did it on low the first few times). DO NOT TOUCH IT AGAIN, unless it is about to boil over, EVEN if it is SEPERATING (If you have to, gently break up the island in the center with a wooden spoon, but only sparingly) If it wants to boil over, gently and SLOWLY stir across once or twice to release the air bubbles.
If it is seperating some, don't panic, when you stir in the additives, it will come togather. (I stirred this batch as it was boiling up, and this is what it looked like, ewww):
In 1/2- 2 hrs, it will gel, and turn to "SNOTT", or Vaseline. When this happens, add WARMED additives, such as borax, scrubbies, scent, whatever you want to add, BUT WARM IT FIRST, and stir SLOWLY, remember you are working with gelled soap, that will HARDEN at any cool down. If it does harden a bit, put the lid on ant wait 10 or more minuets, it will re-melt. Looks like this: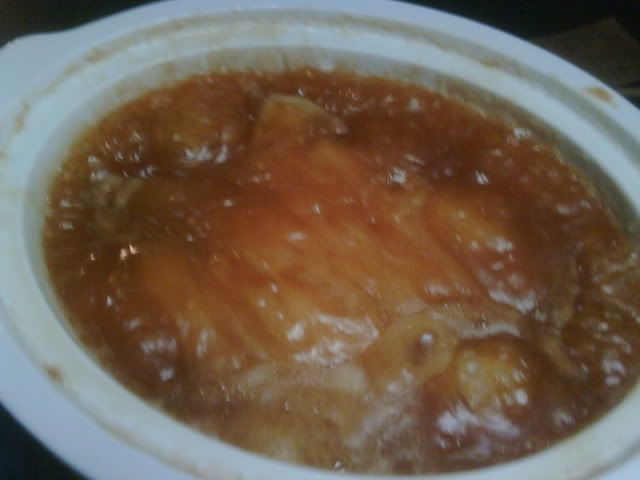 or this, it needs to heat awhile before pouring:
Pour into molds (rubbermaid shoe boxes), scrape the stuff off the sides into a smallish container, for kitchen use, or personal use, It will be discolored but works great.
You can use this soap as soon as it cools, but it works better after it dries a day or two. I use plastic wrap to smoosh it down, and smothe the top, it keeps the MOLTEN soap off my hands: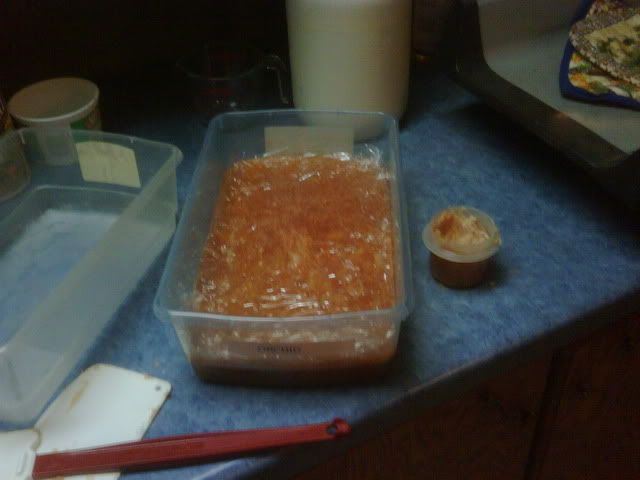 Cut it into bars as usual when completly cooled.
(If I missed something, or was confusing , ask and I will try to explain)