Post by Claire on Jul 10, 2005 13:08:02 GMT -5
I have been asked by a few people to post a few pictures of what my barn looks like, so here it goes. It is a 24' by 24' SteelMasters barn (it is an "A" model"). It took my family, with the occasional help of a few friends, a week to put up. This was working only evenings and weekends. We also put in the foundation ourselves, that took about a week as well, since my Dad is the King of Overbuilding. The barn has a 20-year warrenty and is rated for 150 mph winds. The shape of the building lets snow just slide right off, so you don't have to worry about the structure bending or warping with heavy snowfalls. It has 2 opaque skylights, 2 airvents on the roof, and 2 windows (we have only gotten around to putting 1 in). You can also get an insulation kit for it, though it stays pretty warm with the doors shut almost all the way in the winter. It comes in pieces on a truck and all you do is bolt down the bottom on the foundation, bolt the hoops together, raise them up, and bolt again. They are extremely light- my brother was basically resting the hoops on his head when he was up on scaffolding bolting the top parts together. It is not the most attractive building, but it does have a vague barn shape to it, unlike other steel barns I have seen that look like a soupcan sunk half way into the ground.
Front view.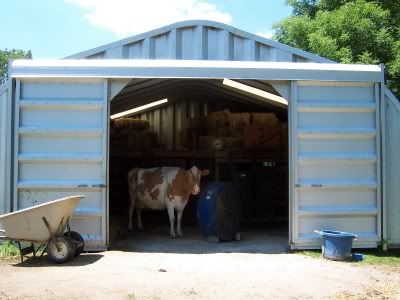 Back view.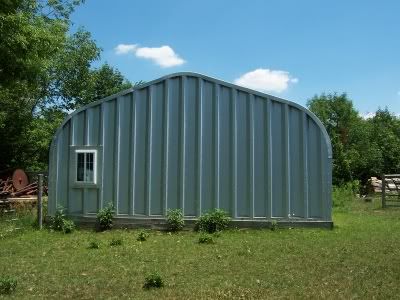 Side view.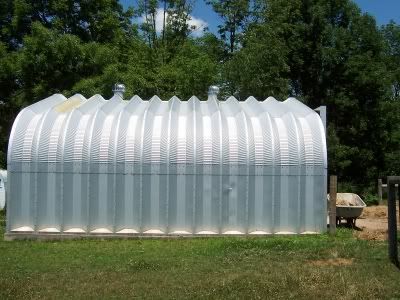 Close up of the hoops- see the multitude of bolts? We did it all by hand and then tightened then with a drill hooked to an air compressor.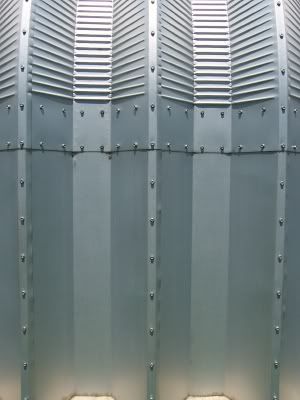 Everything inside the barn is freestanding. We built the hayloft in one night.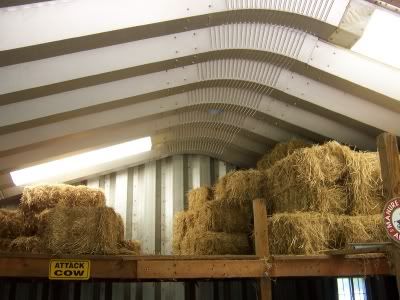 And we have one big stall sectioned into 2 areas by gates beneath the loft. The half you see is where the calf will be seperated at night. I store grain, water barrels, hay, and straw in the other half.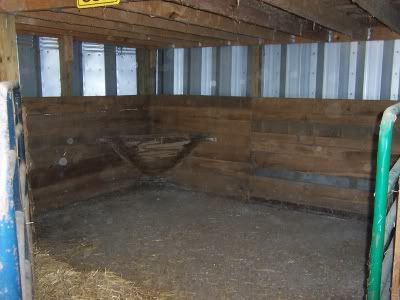 Here is my bull stanchion. Behind it to the left are the grain bins (heavy duty black plastic garbage cans under a sort of hood to keep the cow out) and to the right is my barn cupboard. The water faucet, electrical box, fence charger, pitchfork, etc. are all over in the milking area, where the cow doesn't fuss with things.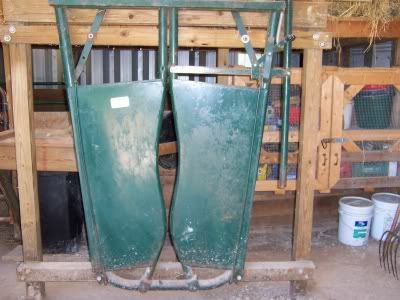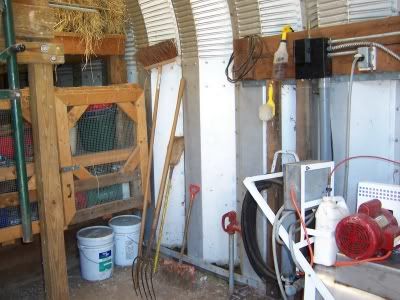 The cow's deep bedding nest, fan, and free choice salt and kelp dishes are over on the other side of the barn. You've all seen that area in other pictures with Isabelle in them. Most of the barn is just empty floor area, which keeps it cool. The floor is many layers of compacted 444 gravel, all hauled and shoveled by hand.
And that is my barn. I would love it if other people would post pictures of their barns and set-ups, because it is always interesting to see how others arrange things.