Post by TasunkaWitko on Aug 16, 2014 10:36:48 GMT -5
Our Recipe for Kosher Dill Pickles
It's that time of year, and to me there are no pickles better than the ones that my parents would always make. They were the best I've ever had, and when I made them a few years ago, I was happy to see that I'd been able to make them just as good (well?).
The recipe came from an old Ball or Kerr book that was my grandmother's (circa 1974), with a few "house modifications" that really made for a great jar of pickles, and uses no sugar or pre-mixed "pickling spices."
The only real downside is that the pickles tend to be a just bit on the soft side rather than crunchy, but they were so good that I never cared. Using alum or "pickle crisp" may or may not take care of this one small "deficiency," but I don't recall that we ever tried using it, and I have no idea if using these would modify the taste. The truth is that it's not really necessary - they are only slightly soft and do not seem to get any softer with the passage of time. This might also be afftected by the processing time.
With that, I am posting our family recipe here in the event that someone wants to try a really, really good pickle.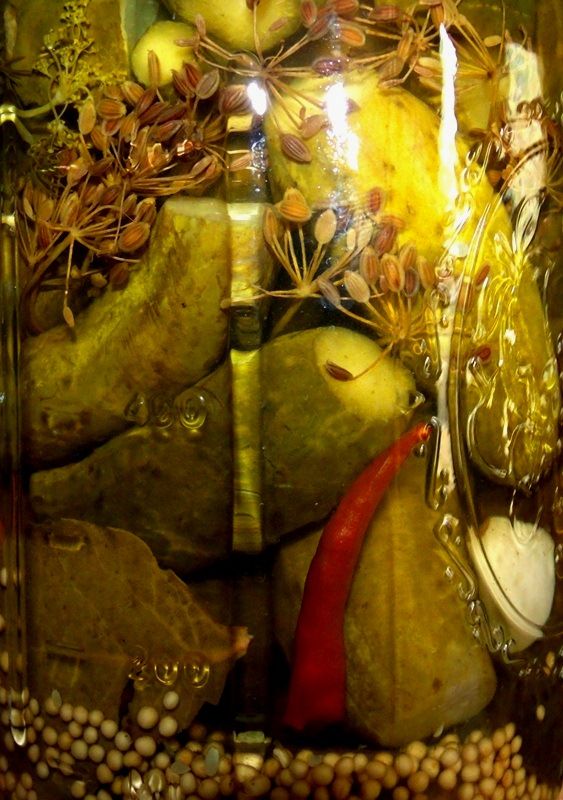 Fischer Family Kosher-Style Dill Pickles

For 3 quarts of pickles:

Brine:

3 Cups white vinegar
3 Cups distilled water
6 Tablespoons canning/pickling salt

Spices per quart jar (amount varies to taste):

2 to 3 Sprigs of fresh dill, or the equivalent in dried dill weed and/or seed (2 to 3 teaspoons, perhaps?)
2 to 3 Large garlic cloves
1 to 2 Bay leaves
2 to 3 Teaspoons mustard seed
1 to 2 small, dried, hot red peppers (cayenne, japone etc.), or 1 to 2 teaspoons crushed red pepper

Wash the cucumbers. Cut them into spears or slices as you prefer (whole would probably work, too); size is of course a factor. Make a brine of the vinegar, water, and salt. Bring brine to boil; then, reduce to a simmer and cover, so that there is no evaporation (evaporation will concentrate the brine and make it too salty).

Place a generous layer of dill and the rest of the spices (per the list above or to taste) in the bottom of each sterilized quart jar. Pack the cucumbers into the jars. When the jars are half filled with cucumbers, add more dill and complete the packing of the jars.

Fill the jars to within 1/2 inch of the top with the boiling brine. Put caps on jars; snug the band down, but not too tight. Process 10 minutes in boiling water bath. Remove with tongs and place on a towel in a draft-free area to cool. Check the seal.