Post by TasunkaWitko on Dec 19, 2013 2:50:43 GMT -5
It's quite possible that my interest in cooking was sparked by thumbing through my mother's red-and-white-checkered Better Homes and Gardens Cookbook (circa 1971); oddly, she never made this recipe, even though the idea of it fascinated me for some reason.
Here's the recipe:
Combine 2 cups tomato juice with 1/3 cup chopped onion, 1/4 cup chopped celery, 2 Tbsp. brown sugar, 1 tsp. salt, 2 bay leaves and 4 cloves. simmer uncovered for 5 minutes, then strain.

Meanwhile, soften 2 envelopes (2 Tbsp.) unflavored gelatin in 1 cup cold tomato juice; dissolve in hot juice mixture. Add 1 cup tomato juice and 3 Tbsp. lemon juice, chill until partially set.

Add 1 cup chopped celery, pour into 5-cup mold. Chill until firm. Un-mold on lettuce leaves.
The first time I made this, I was pleased with the results, but due to my own personal tastes I resolved to try substituting something in place of the raw celery that is added in the final stage of the recipe.
That chance arrived earlier this year, when I made this as part of an outdoor cook-out.
Tomato aspic depends on unflavoured gelatine:
The gelatine will allow you to transform a beverage into a salad... gastronomic magic, perhaps?
Here are some other ingredients you will need, per the recipe:
As mentioned above, I wanted to substitute the raw celery for something else; I considered tiny shrimp, but ultimately settled on green olives and anchovies, which I hoped would add a Mediterranean touch: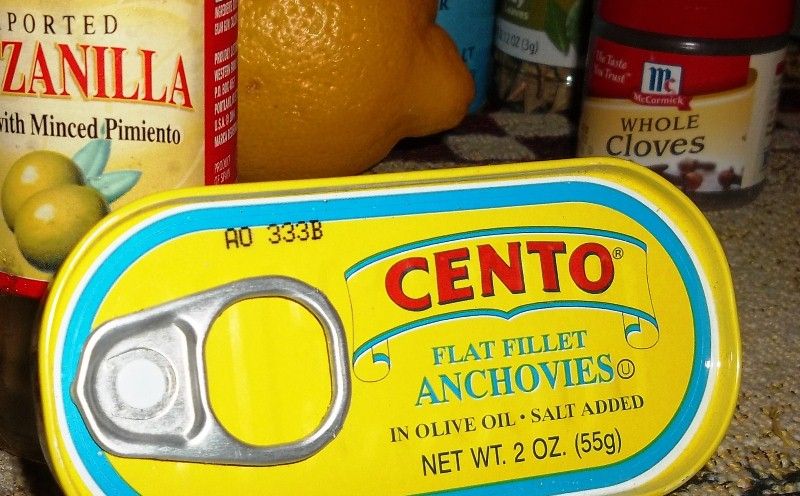 First, I prepped the onion, celery, salt, brown sugar, bay leaves and cloves:
I then set them to simmer in some tomato juice on the stove-top: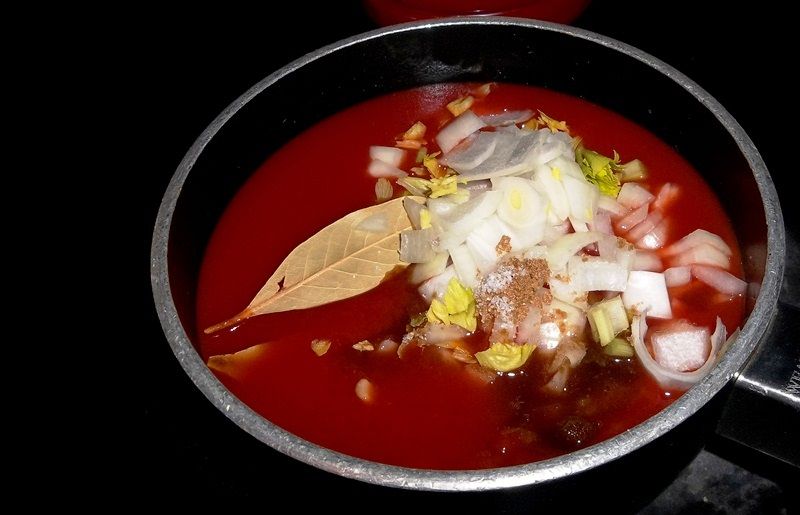 Meanwhile, in order to prepare for the next stages of preparation, I sliced my olives: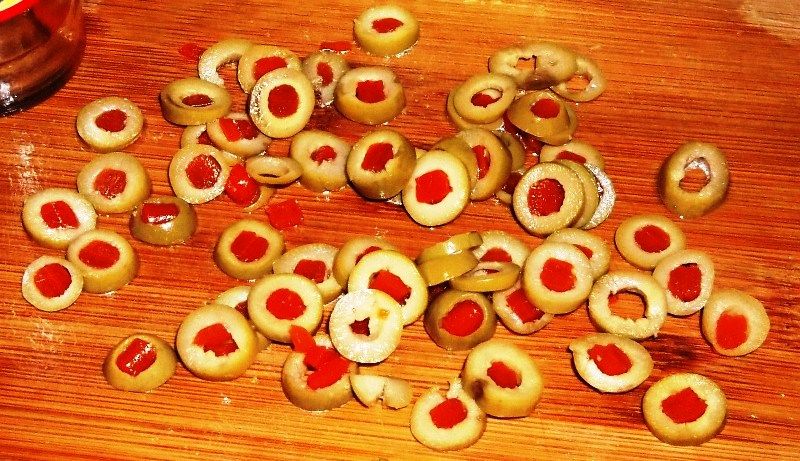 And gave the anchovies a rough chop: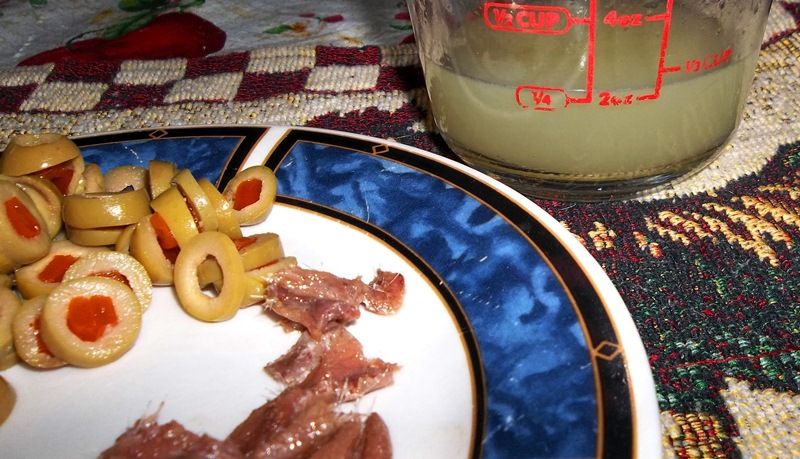 I also squeezed the juice out of my lemon.
When the simmering was nearly complete, I added cold tomato juice to the gelatine: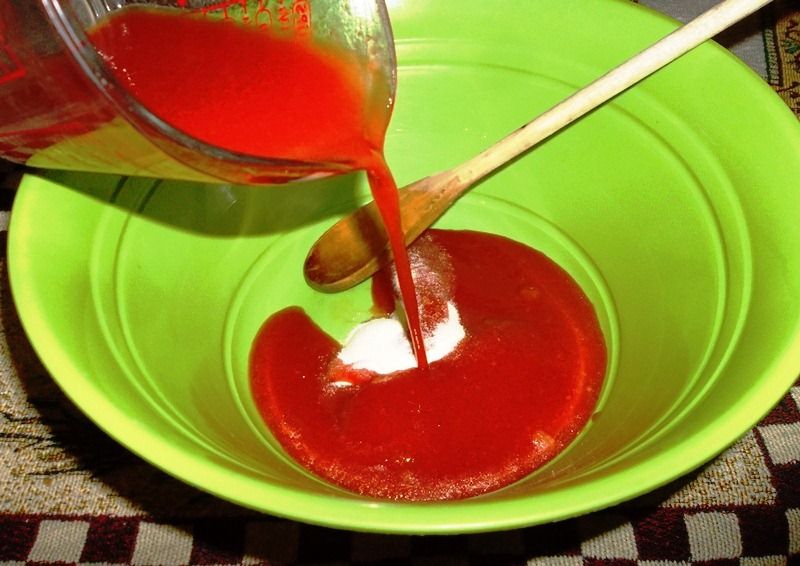 And stirred them together so that the gelatine could soften.
Next, I strained the hot tomato juice mixture into the cold tomato juice and gelatine:
After adding a final cup of tomato juice and stirring thoroughly to dissolve, I added the lemon juice: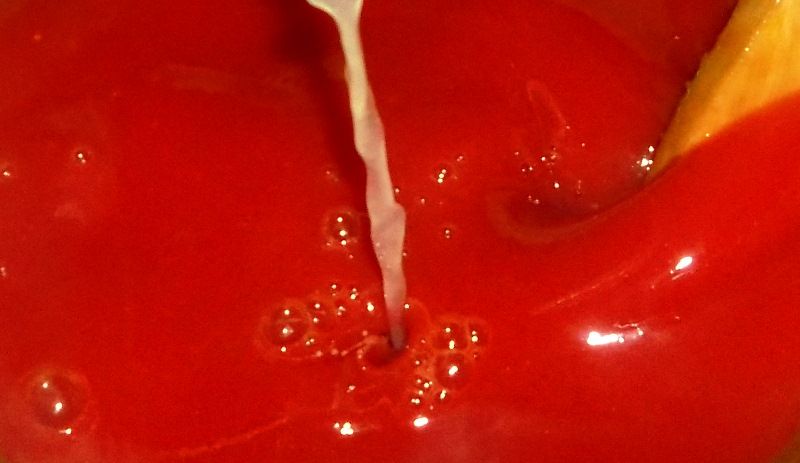 Not thinking, I added the full quarter-cup that I squeezed from the lemon; 3 tablespoons would have been better, but this was also good.
I then chilled the mixture for an hour or so in order to partially set the gelatine.
When the mixture was quite viscous, I added the sliced olives and diced anchovy fillets: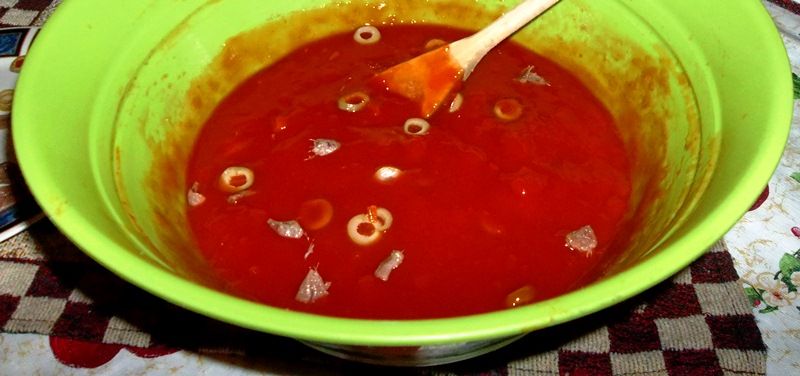 Keep in mind, these two ingredients were intended to substitute for the chopped celery called for in the recipe.
Rather than a plain, old bowl, I chose to use this fish-shaped mold:
For some reason, it always seems to me that this recipe and this mold belong together!
I got the idea in my head to place one olive slice where the fish's eye would be, so I did so: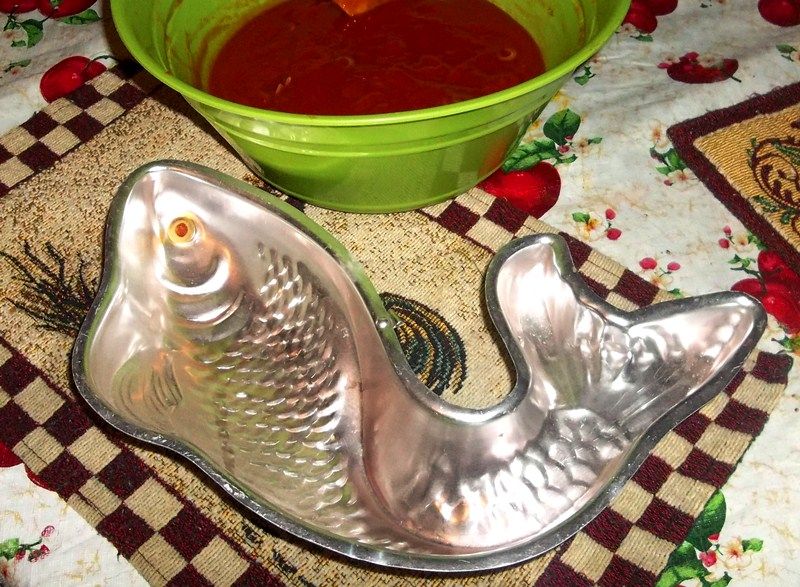 And then proceeded to pour the half-gelled tomato mixture into the mold:
As you can see, the mixture is very thick; it is also loaded with some very nice flavours that, when combined correctly, achieve a wonderful balance.
I carefully proceeded to fill the mold: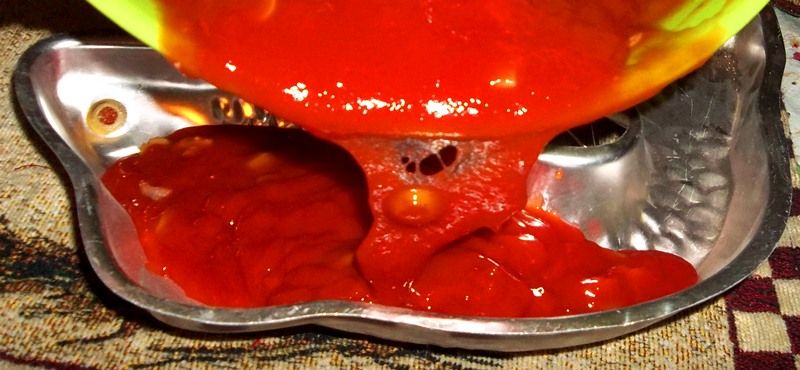 Luckily, I had ran out of mold and tomato mixture at the same time:
if you look near the "tail" of the "fish," you'll see a little tab that swings down: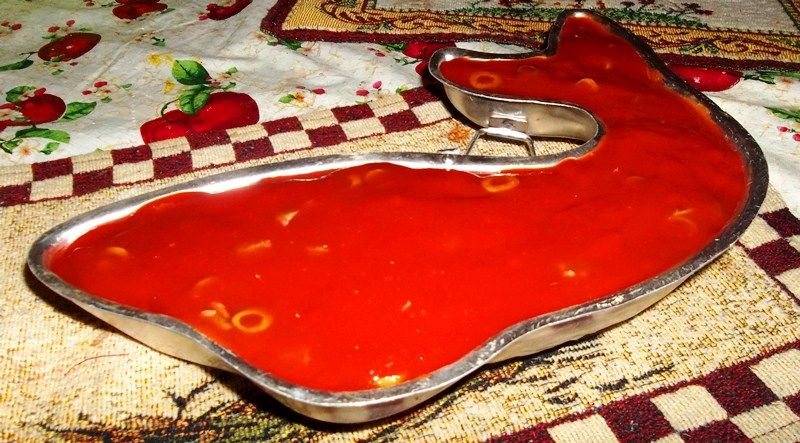 This allowed the mold to sit level in the refrigerator while the aspic chilled and gelled overnight.
The next day, I prepared to release my aspic from the mold. I didn't have lettuce leaves to use as a base, so I simply put foil on a cookie sheet:
I then filled the sink with hot water and carefully lowered the mold into it until the brim of the mold was at water level. I held it there for a few seconds, then turned the aspic out onto the cookie sheet.
Unfortunately, even though I took over a dozen photos of the finished, un-molded aspic, not a single one of them turned out very well. Thus one was probably the best of a bad lot: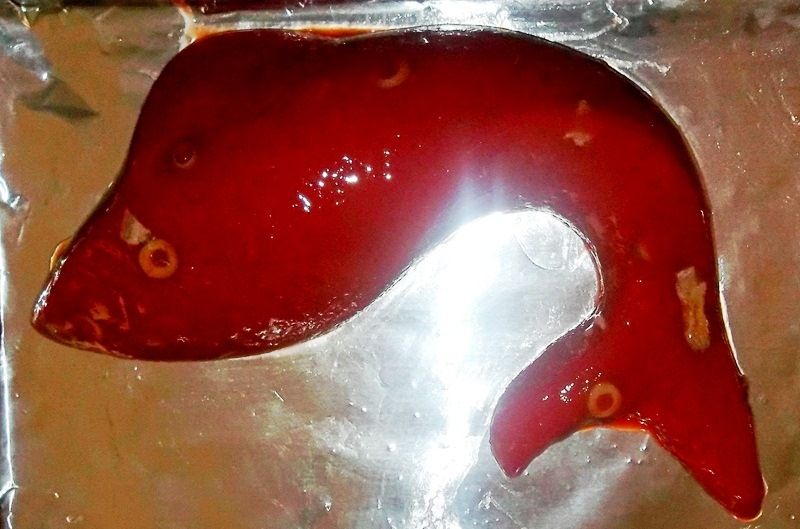 You can see that the olive "eye" didn't stay where I placed it, but it was worth a try. The photo really doesn't do the project justice, because the impressions from the fish mold showed up much better than they appear to here. Next time, I will put more effort into getting better "finished" photos.
As mentioned above, we served this as part of an early summer, Sunday barbecue dinner, and it was very good. I liked the way that the flavours in the tomato mixture balanced out and was also pleased with the addition of the olives and anchovies. The one significant execution flaw that I made was in being careless with the lemon juice; there was probably an extra tablespoon of juice in there, and it did take over just a bit. Having said that, it certainly didn't ruin the dish, and I will be more careful next time.
All-in-all, I was very pleased with this; it made for a refreshing side dish on a hot day and I encourage all who might be interested to try it. this recipe naturally lends itself to experimentation, so please feel free to play with t a little; one thing I would like to do next time is to use V8 juice rather than tomato juice; I am confident that this will provide a richer flavour....we shall see!