Post by TasunkaWitko on Sept 18, 2012 16:47:04 GMT -5
Tzatziki
Yogurt, Cucumber and Garlic Dip
I'm not 100% sure where I got this recipe - it was from somewhere on the internet, and the photo above is from about.com, so the recipe might be from there as well; however, looking at that site now, they have a different recipe, so I am not sure.
In any case, I made this recently, and it was beyond outstanding, taking me across the ocean to the wonder that is Greece. This was extremely easy, and I am kicking myself for not trying it sooner.
From the source:
Tzatziki is traditionally served as an appetizer and can be left on the table as an accompaniment to foods throughout the meal. The key to great tzatziki is the thick creamy texture that allows it to be eaten alone, as a dip, as a spread, and as a condiment.
One thing that surprised me a little was the wide distribution of tzatziki, under various names. According to Wikipedia, versions of tzatziki can be found throughout Asia Minor and beyond - even as far east as India. Tzatziki can also be found in various guises up through the Caucasus region and the Balkan Peninsula:
en.wikipedia.org/wiki/Tzatziki
Indeed, it wouldn't surprise me to learn that the influences of tzatziki stretch as far west as Morocco and as far north as Hungary.
Here is the basic recipe for Greek tzatziki:
Ingredients:

16 ounces (2 cups) of strained Greek yogurt
4 to 10 cloves of garlic, diced
1/2 cup of peeled, diced or shredded cucumber
1 tablespoon of olive oil
2 teaspoons of lemon juice

Preparation:

Prepare all ingredients in advance. Combine oil and lemon juice in a medium mixing bowl. Fold the yogurt in slowly, making sure it mixes completely with the oil. Add the garlic, according to taste, and the cucumber. Stir until evenly distributed. Garnish with a bit of green and serve well chilled.

Yield: about 2 1/2 cups

Add mint or dill: Slight variations include 1 tablespoon of either finely chopped fresh dill or fresh mint. Either one makes a tasty addition.
There is some other helpful information - which I will outline below - that gets into types of yogurt, straining your own yogurt and tips on preparting tzatziki; it is valuable reading, especially if you do not have strained or Greek yogurt available to you, and I strongly recommend it.
But for now, let's get to it!
Here are the goods:
I did not have any Greek or full-fat yogurt on hand, so I used what you see above, and strained it according to the instructions below. This resulted in more than enough yogurt to make a double batch of tzatziki.
Note that for this preparation, I elected not to add dill or mint, since the beautiful Mrs. Tas Is not fond of either herb; I suppose I could have added chopped parsley, but it didn't occur to me at the time.
Following the instructions for straining yogurt below, I dumped the yogurt into a double-thickness of cheesecloth set into a strainer:
And gathered it up, squeezing as I went: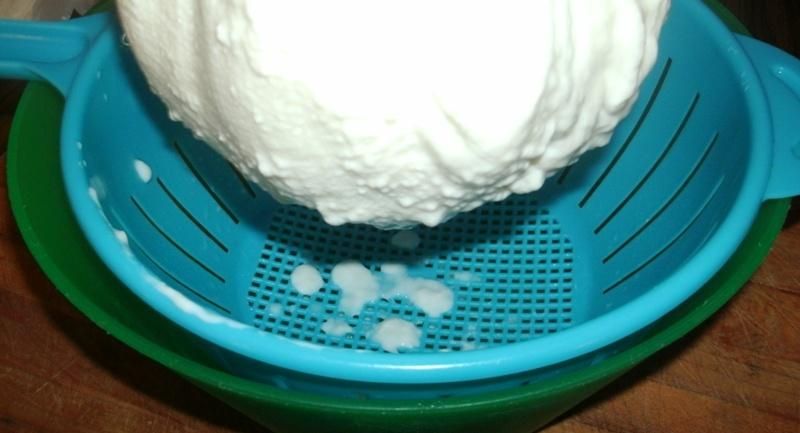 Once the initial "fast" drip of liquid slowed down, I tied off the cheesecloth and set the yogurt over a bowl to continue to strain for three hours.
During the last hour or so while the yogurt drained, I shredded the cucumbers:
I then lightly salted them and set them into a strainer over a bowl to drain off their excess moisture.
After three hours, the yogurt had thickened considerably; it also had lost perhaps 1/3 of its volume. I measured out enough to make a double batch of tzatziki and plopped it into a mixing bowl:
Next, I crushed, peeled and diced 6 garlic cloves: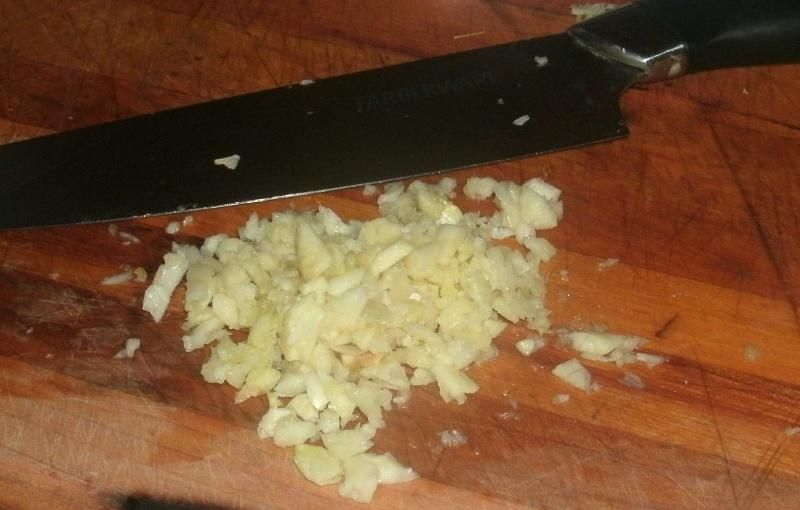 The amount of garlic used seemed to be a good middle-of-the-road approach, and one can adjust up or down according to taste. I diced the garlic pretty well, but in the future I might see about crushing and mincing it even more, to the point where it is nearly a paste, in an effort to get a smoother texture; either way works, though, and your method should be guided by preference or whim.
Next, I combined the olive oil and lemon juice: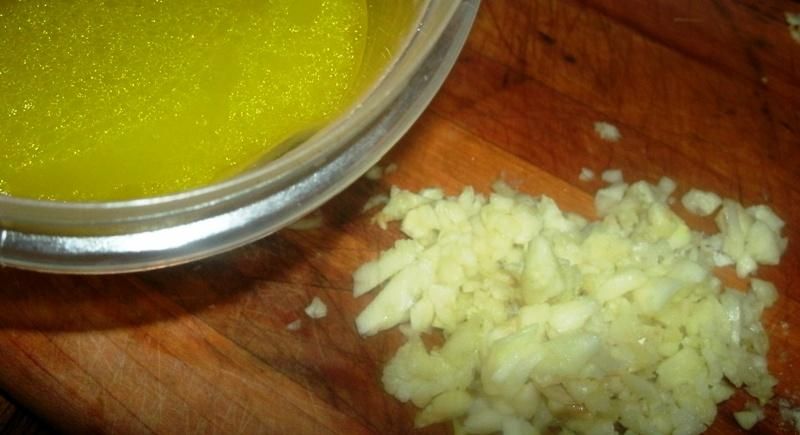 And drizzled it into the strained yogurt: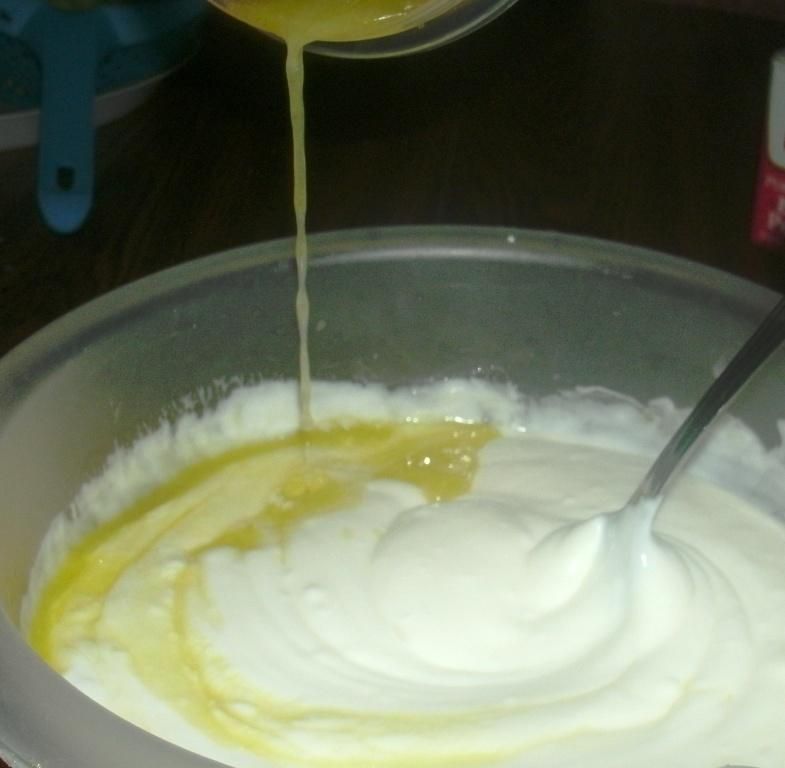 The entire time I added the olive oil/lemon juice mixture, I was drizzling slowly and stirring vigorously, in order to ensure proper blending.
Once all of the oil and lemon juice had been incorporated into the yogurt, I added the garlic: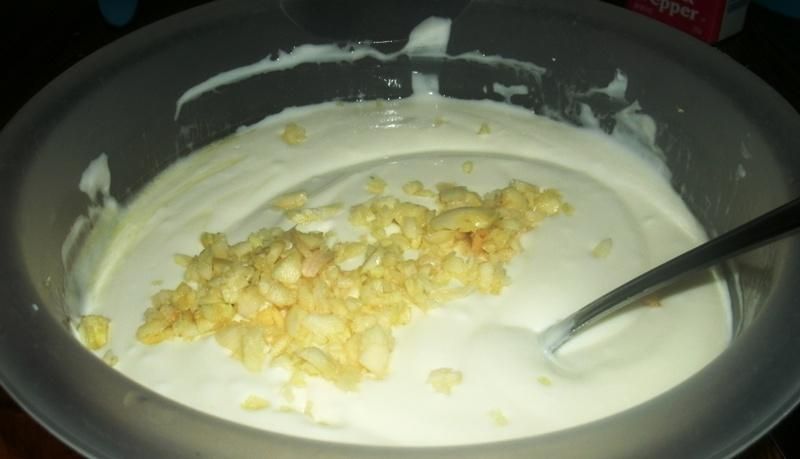 Finally, I added the shredded cucumber, stirring well to mix all of the ingredients together: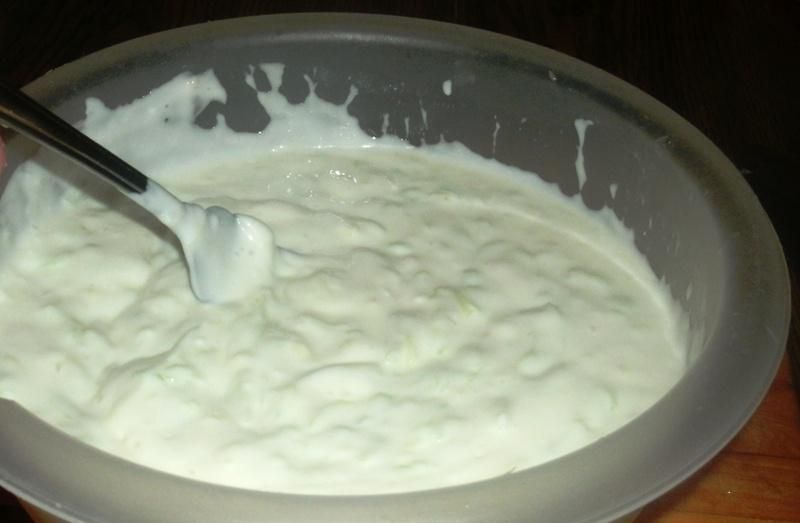 It is at this point that one can add some chopped dill, mint or parsley according to their preference; I suppose nearly any herb could be used, depending on the direction one wants to push this condiment.
And that's it - before I realized it, I had made tzatziki! You can too, it's easier than I thought, and it can add so much to a light spring or summer meal. There's no reason to put it off, now that you know how easy it is.
On the day that I made this, I used it for two meals. For lunch, I served it with a North African chicken tajine along with fresh cucumber slices: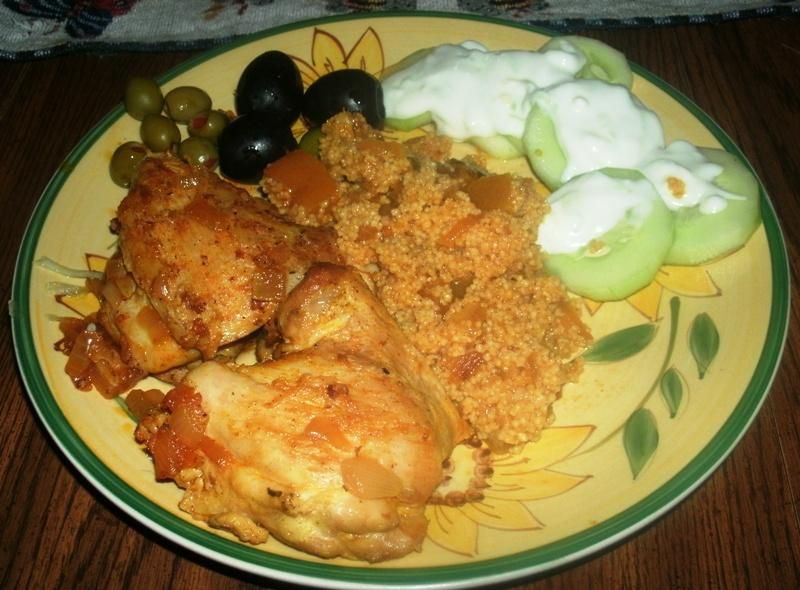 For supper, I served the tzatziki as a dipping sauce for spare ribs that had been barbecued with a Greek-inspired rub, along with pita bread and cucumbers that had been sliced and "soaked" in vinegar for a few hours with a little salt and pepper.
I've since used the leftover tzatziki as a chip dip, sandwich spread, potato topping and salad dressing - and it has been delicious every time, lending a light, flavourful touch to just about everything I've tried it with.
Tzatziki is one of those basic things that anyone who enjoys Greek cuisine should have on hand. I put off making it for years because I was intimidated by the idea of having to use some esoteric yogurt, or engage in some complicated preparation process; nothing could be further (or is it "farther?" from the truth! It's so easy, the actual preparation took only a few minutes; the only real time involved was in straining the yogurt and shredded cucumbers, but if you use Greek or pre-strained yogurt, you can even eliminate that investment.
As promised, here is some other helpful information, provided by the source:
Shopping Tip: The thick, full-fat yogurts available at Greek, Middle Eastern, and specialty food markets - or a commercial full-fat strained yogurt - will give the best results. You can also make your own strained yogurt, using full-fat, low-fat, or fat-free commercial yogurt (see below).

Preparation Tips: After dicing [or shredding] the cucumber, pat it dry to remove excess moisture (a sprinkle of salt will help release moisture).

Storage: Tzatziki will store safely in the refrigerator for several days. The longer the tzatziki is refrigerated before serving, the more intense the garlic taste will become.

Serving Suggestions: Friends who are passionate about tzatziki serve it with non-Greek foods including fried chicken, lunch/dinner omelets, and in other ways suited to their tastes.
Here are instructions for making your own Greek-style or strained yogurt:
How To Make Thick, Strained Yogurt:

The thick, strained yogurt used in Greek cooking may not be available in your local market. Learn to make your own using commercial or homemade full-fat, low-fat, and even fat-free yogurt. It's not only great for preparing Greek foods, but you'll love it for other uses as well!

Difficulty: Easy
Time Required: 2-3 hours or overnight

What You Need:

Medium-large mixing bowl
Cheesecloth or clean white dishtowel
Commercial or homemade full-fat, low-fat, or fat-free yogurt, plain unflavored
String
Strainer or colander

Preparation:

Line a medium-large bowl with a piece of cheesecloth or a clean white dish towel.
Dump a container of plain (unflavored), yogurt into the center of the cloth. Bring the four corners of the cloth together and lift the yogurt. Over the bowl or sink, twist the corners to squeeze out the liquid (it will drain through the cloth). Continue squeezing, putting the yogurt under pressure, to force the liquid out. When the majority of the surface liquid has been drained, it will start to drip more slowly. Tie off the top of the cloth just above the mass of yogurt with string.

Place the cloth containing the yogurt in a strainer or colander, and place the strainer or colander in a bowl where it doesn't touch the bottom (so that the liquid can continue to drain). Place the bowl containing the strainer/colander in the refrigerator and allow to drain for 2-3 hours.

After draining, take the cloth containing the yogurt and put it in the sink (do not remove the string). Place the palms of your hands on the bag and press down to force out any remaining liquid. Remove the string, open the cloth, and using a spatula, put the yogurt in a bowl for use.

Note: How thick is thick? The yogurt should be the consistency of whipped butter or cream cheese.

Tips:

Straining will reduce the volume of yogurt by half, perhaps more, so plan accordingly. One quart of low-fat yogurt (4 cups) will yield 2 cups or slightly less of strained yogurt.

Using fat-free yogurt will reduce the quantity a little more, and it will not be quite as thick as using full-fat or low-fat yogurt, but it is a reasonable option for low fat diets.

For vegans: Buy or make soy yogurt and strain as above.
After reading this, anyone should be ready to give this a try with their next meal, but if you have any questions, let me know -
Enjoy!
Ron