Post by Robert on Apr 27, 2009 0:02:58 GMT -5
Evenin' gang,
As promised here are some pictures of Lola, Lillian's cousin. Also, by request a couple of photo's of my stanchion and milk pump set-up. Someone mentioned earlier today about the need for a cart... you can see mine below. It's 867 feet from the dairy barn to the kitchen... way too far to carry milk buckets. This picture is taken from the dairy barn gate toward the main barn, poultry palace and the house behind that. The cart serves us well. I removed the worthless mowing deck from an old lawn tractor and made it my primary towing motor. It's light enough not to trash the pastures even when the soil is wet. I use this little 1 yard cart for EVERYTHING!
Below is Miss Lola. She is a 3+ year old registered Jersey from the same dairy from which I got Miss Lillian . That is the dairy belonging to Michelle ( SpiritedRose) and her husband Jay. They are retiring from dairying and they wanted me to have Lola. Very Sweet folks those two. Lola is exceptionally sweet natured... a real lover. This is so helpful to me, a novice. She is so patient and forgiving of my lack of experience. Every new milker ( person ) should have such a good teacher ( cow ). In 5 days we've become quite the team.
Heres another view of Lola, she reminds me of Joann's ( Mitra's ) Helen. I guess it's the ears and the "what now" expression.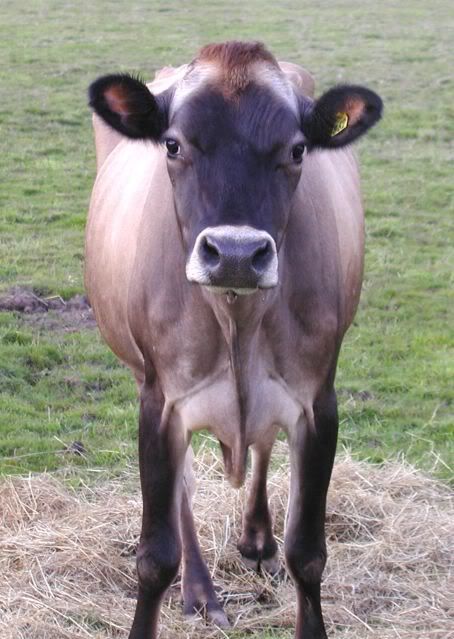 One of the members asked for a photo of my pump set-up. This is an early 1960's vintage DeLaval rotary vane pump; a # 73. The DeLaval tech said he hopes it never breaks down because God himself couldn't get repair parts. It is remarkably strong and will pull 21 inches before starting to lug the motor down, The motor is a 3/4 HP 1470 RPM farm duty; with the larger pulleys I'm using it slows RPM down to a lovely 1150-1200 RPM. It just purrs.
The gauge has a 4.5 inch face so even blind me can see it from across the barn. The photo doesn't quite show it but the dairy barn in 98% complete. I still have to install some cupboards above the workbench and a little more pegboard. As soon as the cupboards at installed I can bring the radio out so Lillian and Lola can have some culture. I'll bet they'll love Brahms as much as I do.
You can see that I have the vacuum piped up high and descending at the corner of the stanchion where it terminates in a brass stallcock.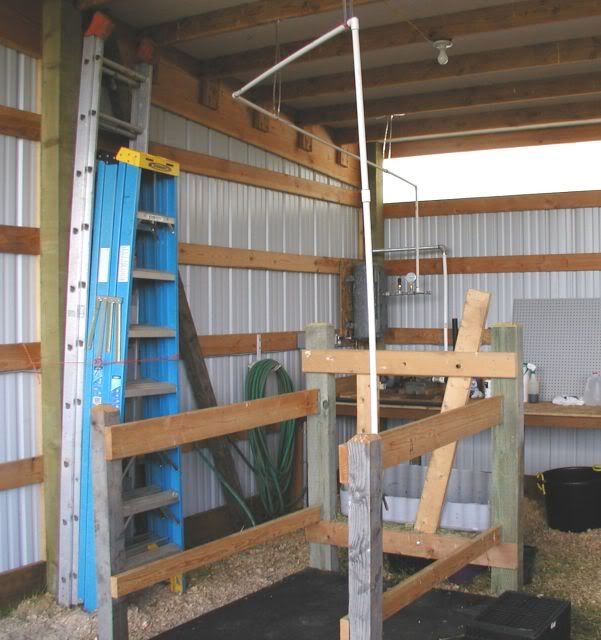 The stanchion is raised off the floor on 4 inch runners with 2x6 tongue and groove on top of that and a 3/4 inch rubber stall mat. This gets the cows up off the dirt about 6 inches which REALLY helps my back. The water hydrant is right within reach so I can wash down the whole stanchion area after each use as necessary. I even gave Lola a quick bath on her first day... she didn't even flinch - just kept on munching away.
Here's Lola finishing her vittles tonight after milking. She takes FOREVER to eat! Prep and milking take 12-15 minutes, max. She's still chowing down 30 minutes after that. Goof.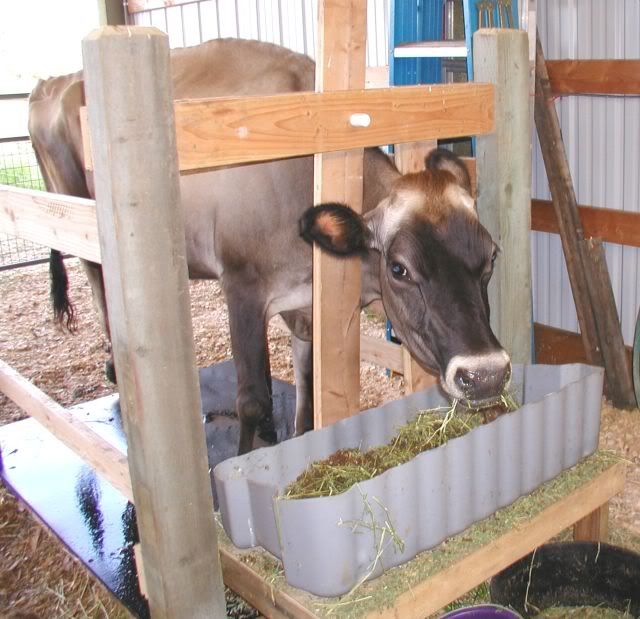 Below is a pic showing Lillian at 18 months with Lola and Trouble her clueless steer boyfriend. Both Lillian and Lola will be AI'd the 2nd week of May. This photo was taken about 20 minutes before she was milked. (3.5 gallons 2x day) Help, I'm drowning!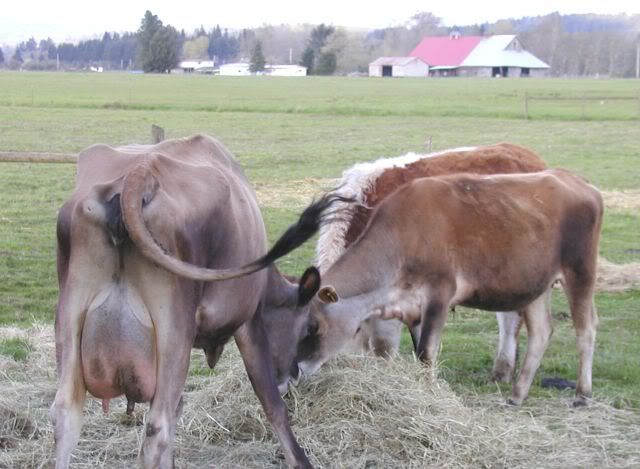 Hope this satisfies the "we want pictures NOW" crowd.
Blessings, Bobby